01-03-2016 | Special Section: PROs in Non-Standard Settings (by invitation only) | Uitgave 3/2016 Open Access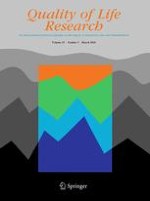 AmbuFlex: tele-patient-reported outcomes (telePRO) as the basis for follow-up in chronic and malignant diseases
Tijdschrift:
Auteurs:

Liv Marit Valen Schougaard, Louise Pape Larsen, Anne Jessen, Per Sidenius, Liv Dorflinger, Annette de Thurah, Niels Henrik Hjollund
Abstract
Purpose
A tele-patient-reported outcome (telePRO) model includes outpatients' reports of symptoms and health status from home before or instead of visiting the outpatient clinic. In the generic PRO system, AmbuFlex, telePRO is used to decide whether a patient needs an outpatient visit and is thus a tool for better symptom assessment, more patient-centred care, and more efficient use of resources. Specific PROs are developed for each patient group. In this paper we describe our experiences with large-scale implementations of telePRO as the basis for follow-up in chronic and malignant diseases using the generic PRO system AmbuFlex.
Methods
The AmbuFlex concept consists of three generic elements: PRO data collection, PRO-based automated decision algorithm, and PRO-based graphical overview for clinical decision support. Experiences were described with respect to these elements.
Results
By December 2015, AmbuFlex was implemented in nine diagnostic groups in Denmark. A total of 13,135 outpatients from 15 clinics have been individually referred. From epilepsy clinics, about 70 % of all their outpatients were referred. The response rates for the initial questionnaire were 81–98 %. Of 8256 telePRO-based contacts from epilepsy outpatients, up to 48 % were handled without other contact than the PRO assessment. Clinicians as well as patients reported high satisfaction with the system.
Conclusion
The results indicate that telePRO is feasible and may be recommended as the platform for follow-up in several patient groups with chronic and malignant diseases and with many consecutive outpatient contacts.