26-02-2018 | Uitgave 7/2018 Open Access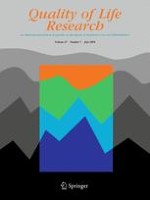 Agreement between retrospectively and contemporaneously collected patient-reported outcome measures (PROMs) in hip and knee replacement patients
Tijdschrift:
Auteurs:

Esther Kwong, Jenny Neuburger, Nick Black
Abstract
Purpose
To investigate the relationship between retrospectively and contemporaneously collected patient-reported outcome measures (PROMs) and the influence on this relationship of patients' age and socio-economic status and the length of time.
Methods
Patients undergoing hip or knee replacement in four hospitals who had completed a pre-operative questionnaire were invited to recall their pre-operative health status shortly after surgery. The questionnaires included a disease-specific (Oxford Hip Score; Oxford Knee Score) and generic (EQ-5D-3L) PROM. Consistency and absolute agreement between contemporary and retrospective reports were investigated using intraclass correlations (ICCs). Differences were visualised using Bland–Altman plots. Linear regression analysis explored whether retrospective can predict contemporary PROMs.
Results
Patients' recalled health statuses were similar to their contemporaneous reports, with no significant systematic bias. Absolute agreement for disease-specific PROMs was very strong (ICC 0.82) and stronger than for the generic PROM (ICC 0.60, 0.62). Agreement was consistently strong across the range of severity of a patient's condition, age and socio-economic status. Patients' age and socio-economic status had no significant influence on size of difference and direction of recall, although reliability of recall was slightly worse among the over-75s versus under-60s for hips (Oxford Hip Score ICC 0.88 vs. 0.78). Mean retrospective PROMs for groups or populations of patients can reliably predict what mean contemporary reports of PROMs would have been.
Conclusion
Retrospective PROMs can be used to obtain a baseline assessment of health status when contemporary collection is not feasible or cost effective. Research is needed to determine the feasibility of retrospective PROMs in emergency admissions.