18-04-2018 | Brief Communication | Uitgave 7/2018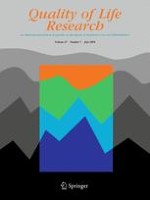 Importance ratings on patient-reported outcome items for survivorship care: comparison between pediatric cancer survivors, parents, and clinicians
Tijdschrift:
Auteurs:

Conor M. Jones, Justin N. Baker, Rachel M. Keesey, Ruth J. Eliason, Jennifer Q. Lanctot, Jennifer L. Clegg, Belinda N. Mandrell, Kirsten K. Ness, Kevin R. Krull, Deokumar Srivastava, Christopher B. Forrest, Melissa M. Hudson, Leslie L. Robison, I-Chan Huang
Belangrijke opmerkingen
Electronic supplementary material
Abstract
Purpose
To compare importance ratings of patient-reported outcomes (PROs) items from the viewpoints of childhood cancer survivors, parents, and clinicians for further developing short-forms to use in survivorship care.
Methods
101 cancer survivors, 101 their parents, and 36 clinicians were recruited from St. Jude Children's Research Hospital. Participants were asked to select eight items that they deemed useful for clinical decision making from each of the four Patient-Reported Outcomes Measurement Information System Pediatric item banks. These item banks were pain interference (20 items), fatigue (23 items), psychological stress (19 items), and positive affect (37 items).
Results
Compared to survivors, clinicians rated more items across four domains that were statistically different than did parents (23 vs. 13 items). Clinicians rated five items in pain interference domain (ORs 2.33–6.01;
p
's < 0.05) and three items in fatigue domain (ORs 2.22–3.80;
p
's < .05) as more important but rated three items in psychological stress domain (ORs 0.14–0.42;
p
's < .05) and six items in positive affect domain (ORs 0.17–0.35;
p
's < .05) as less important than did survivors. In contrast, parents rated seven items in positive affect domain (ORs 0.25–0.47;
p
's < .05) as less important than did survivors.
Conclusions
Survivors, parents, and clinicians viewed importance of PRO items for survivorship care differently. These perspectives should be used to assist the development of PROs tools.