09-03-2018 | Wetenschappelijk artikel | Uitgave 2/2018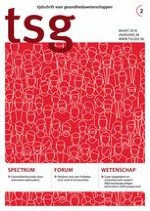 Zelfmanagementvaardigheden en kwaliteit van leven van kwetsbare, zelfstandig wonende mensen
De rol van wijkverpleegkundigen
Tijdschrift:
Auteurs:

Prof.dr. Anna Petra Nieboer, Dr. Marjan Hoeijmakers, Dr. Jane Murray Cramm
Samenvatting
Dit onderzoek heeft als doel na te gaan of veranderingen in zelfmanagementvaardigheden samenhangen met de kwaliteit van leven van kwetsbare, zelfstandig wonende mensen die zorg ontvangen van wijkverpleegkundigen. Dit longitudinale onderzoek werd uitgevoerd in het kader van een evaluatieonderzoek van het project Zichtbare schakels Rotterdam. Bij dit deelonderzoek, uitgevoerd tussen juli 2013 en november 2014, waren cliënten betrokken van wijkverpleegkundigen in Rotterdam. Om de kwaliteit van de zorg te kunnen evalueren en zo mogelijk verbeteringen door te voeren verzamelden de wijkverpleegkundigen gegevens tijdens persoonlijke gesprekken met de cliënten bij aanvang van de zorgverlening (T0;
n
 = 220) en bij de afsluiting van de zorgverlening (T1;
n
 = 111). Bij het onderzoek werden de kwaliteit van leven en de zelfmanagementvaardigheden van deze cliënten gemeten; ook werden relevante achtergrondgegevens genoteerd. Uit het onderzoek blijkt dat de cliënten van wijkverpleegkundigen vooral problemen ervaren met hun dagelijkse activiteiten en te maken hebben met pijn/
discomfort
. Bovendien bleek hun kwaliteit van leven gemeten met de EQ5D (0,51) veel slechter te zijn dan die van kwetsbare ouderen (leeftijd ≥70 jaar) in Rotterdam (0,61); van Nederlandse patiënten met een chronische ziekte (CVD (0,83), COPD (0,79) of diabetes (0,83)); en van ouderen (leeftijd ≥65 jaar) die recentelijk in het ziekenhuis opgenomen waren geweest (0,80). Bij de afsluiting van de zorgverlening bleken de zelfmanagementvaardigheden en de kwaliteit van leven van de cliënten significant verbeterd te zijn. Zowel het niveau van de zelfmanagementvaardigheden op T0 en de veranderingen in die zelfmanagementvaardigheden (T1–T0) waren duidelijk voorspellend voor de kwaliteit van leven op T1. Het investeren in wijkverpleegkundigen heeft mogelijk een gunstige invloed op de gewenste verbetering van de zelfmanagementvaardigheden en de kwaliteit van leven van zeer kwetsbare mensen in de samenleving.