22-08-2020 | Uitgave 11/2020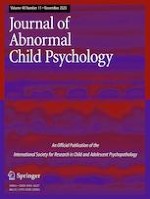 Why Family Communication Matters: the Role of Co-rumination and Topic Avoidance in Understanding Post-Disaster Mental Health
Tijdschrift:
Auteurs:

Erika D. Felix, Tamara D. Afifi, Sean M. Horan, Haley Meskunas, Adam Garber
Belangrijke opmerkingen
Electronic supplementary material
Publisher's Note
Springer Nature remains neutral with regard to jurisdictional claims in published maps and institutional affiliations.
Abstract
Although families can be a source of support post-disaster, depending on how they communicate about their stress, their attempts at support can be helpful or harmful. This study explored the moderating role of topic avoidance and co-rumination on post-disaster mental health (MH) in a sample of 485 parent-child dyads following severe floods affecting Texas. Parents (69.0% female) and their oldest child between the ages of 10–19 years (
M
 = 13.75 years,
SD
 = 2.56) completed online surveys approximately one-year post-flooding. Participants reported their flood exposure, life stressors since the disaster, topic avoidance, co-rumination, and MH symptoms (posttraumatic stress symptoms [PTSS], depression, anxiety). Structural equation models tested a moderated-mediation model of whether communication processes moderated the associations of flood exposure and life stressors on MH. They did not moderate the association of flood exposure to PTSS, but did have a moderating role for depression and anxiety. At low levels of topic avoidance, there was no association between flood exposure and child anxiety or depression. However, at mean and high levels of topic avoidance, there was a significant, positive association between flood exposure and child anxiety and depression. Co-rumination impacted both parents and children. For parents, there was no association between flood exposure and depression or anxiety when co-rumination was low or mean-level. However, flood exposure increased risk for depression and anxiety at high levels of co-rumination. A similar pattern emerged for children. Results for life stressors were nuanced. Overall, this suggests that communication can influence post-disaster MH.