19-12-2017 | Original Article | Uitgave 2/2018 Open Access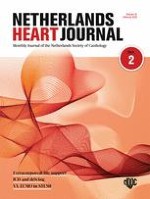 Veno-arterial extracorporeal membrane oxygenation in addition to primary PCI in patients presenting with ST-elevation myocardial infarction
Tijdschrift:
Auteurs:

F. S. van den Brink, A. D. Magan, P. G. Noordzij, C. Zivelonghi, P. Agostoni, F. D. Eefting, J. M. ten Berg, M. J. Suttorp, B. R. Rensing, J. P. van Kuijk, P. Klein, E. Scholten, J. A. S. van der Heyden
Abstract
Introduction
Primary percutaneous coronary intervention (pPCI) in ST-elevation myocardial infarction (STEMI) can cause great haemodynamic instability. Veno-arterial extracorporeal membrane oxygenation (VA-ECMO) can provide haemodynamic support in patients with STEMI but data on outcome and complications are scarce.
Methods
An in-hospital registry was conducted enrolling all patients receiving VA-ECMO. Patients were analysed for medical history, mortality, neurological outcome, complications and coronary artery disease.
Results
Between 2011 and 2016, 12 patients underwent pPCI for STEMI and received VA-ECMO for haemodynamic support. The majority of the patients were male (10/12) with a median age of 63 (47–75) years and 4 of the 12 patients had a history of coronary artery disease. A cardiac arrest was witnessed in 11 patients. The left coronary artery was compromised in 8 patients and 4 had right coronary artery disease. All patients were in Killip class IV. Survival to discharge was 67% (8/12), 1‑year survival was 42% (5/12), 2 patients have not yet reached the 1‑year survival point but are still alive and 1 patient died within a year after discharge. All-cause mortality was 42% (5/12) of which mortality on ECMO was 33% (4/12). Patient-related complications occurred in 6 of the 12 patients: 1 patient suffered major neurological impairment, 2 patients suffered haemorrhage at the cannula site, 2 patients had limb ischaemia and 1 patient had a haemorrhage elsewhere. There were no VA-ECMO hardware malfunctions.
Conclusion
VA-ECMO in pPCI for STEMI has a high survival rate and neurological outcome is good, even when the patient is admitted with a cardiac arrest.