25-09-2015 | Uitgave 5/2016 Open Access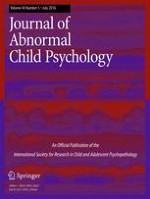 Universal School-Based Depression Prevention 'Op Volle Kracht': a Longitudinal Cluster Randomized Controlled Trial
Tijdschrift:
Auteurs:

Yuli R. Tak, Anna Lichtwarck-Aschoff, Jane E. Gillham, Rinka M. P. Van Zundert, Rutger C. M. E. Engels
Abstract
The longitudinal effectiveness of a universal, adolescent school-based depression prevention program Op Volle Kracht (OVK) was evaluated by means of a cluster randomized controlled trial with intervention and control condition (school as usual). OVK was based on the Penn Resiliency Program (PRP) (Gillham et al.
Psychological Science, 6
, 343–351,
1995
). Depressive symptoms were assessed with the Child Depression Inventory (Kovacs
2001
). In total, 1341 adolescents participated,
M
age = 13.91,
SD
 = 0.55, 47.3 % girls, 83.1 % Dutch ethnicity; intervention group
n
 = 655, four schools; control group
n
 = 735, five schools. Intent-to-treat analyses revealed that OVK did not prevent depressive symptoms,
β
 = −0.01,
SE
 = 0.05,
p
 = .829, Cohen's
d
 = 0.02, and the prevalence of an elevated level of depressive symptoms was not different between groups at 1 year follow-up,
OR
 = 1.00, 95 % CI = 0.60–1.65,
p
 = .992, NNT = 188. Latent Growth Curve Modeling over the 2 year follow-up period showed that OVK did not predict differences in depressive symptoms immediately following intervention, intercept:
β
 = 0.02,
p
 = .642, or changes in depressive symptoms, slope:
β
 = −0.01,
p
 = .919. No moderation by gender or baseline depressive symptoms was found. To conclude, OVK was not effective in preventing depressive symptoms across the 2 year follow-up. The implications of these findings are discussed.