01-05-2014 | Artikelen | Uitgave 3/2014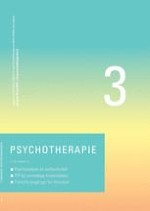 Transference-Focused Psychotherapy bij voormalige kindsoldaten
Moordlust in de spreekkamer
Tijdschrift:
Auteurs:

Nel Draijer, Pauline van Zon
Belangrijke opmerkingen
n. draijer
is klinisch psycholoog, psychotherapeut en psychoanalyticus, Afdeling Psychiatrie, VU Medisch Centrum/GGZinGeest, Amsterdam. E-mail: n.draijer@ggzingeest.nl.
p. van zon is psychotherapeut, Psychotraumacentrum Zuid-Nederland/Reinier van Arkel Groep, Den Bosch.
Dit artikel is een vertaling van 'Transference-focused psychotherapy with former child soldiers: meeting the murderous self', gepubliceerd in het
Journal of Trauma and Dissociation, 14
, 170-183.
Samenvatting
In dit artikel beschrijven wij de toepassing van Transference-Focused Psychotherapy (TFP) bij de behandeling van voormalige kindsoldaten met een dissociatieve identiteitsstoornis (DIS). Het richt zich vooral op de agressieproblemen, zoals die in psychotherapie naar voren komen. TFP biedt een psychodynamisch, objectrelationeel model om deze agressie te begrijpen en te focussen op de overdracht en tegenoverdracht in het hier en nu van de therapeutische relatie. Agressie wordt gezien als essentieel en vitaal, gericht op autonomie, afstand en op het voorkomen van kwetsuren en afhankelijkheid. Bij ernstig getraumatiseerde patiënten kunnen afgesplitste agressieve en onderdrukkende kanten voorkomen, die totale controle willen - zich identificerend met de agressors uit de kindertijd - en die daarmee kwetsbaarheid voorkomen. In TFP is het van vitaal belang dat de behandelaar deze agressie aanspreekt als behorend bij de patiënt zelf, om uiteindelijk een zekere mate van integratie, evenwicht en gezondheid te bereiken. Dit proces wordt geïllustreerd aan de hand van een gevalsbeschrijving.