01-02-2015 | Original Article | Uitgave 2/2015 Open Access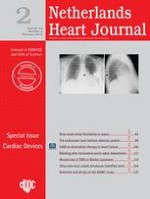 The revised role of TGF-β in aortic aneurysms in Marfan syndrome
Tijdschrift:
Auteurs:

R. Franken, T. Radonic, A. W. den Hartog, M. Groenink, G. Pals, M. van Eijk, R. Lutter, B. J. M. Mulder, A. H. Zwinderman, V. de Waard, COMPARE study group
Belangrijke opmerkingen
Romy Franken and Teodora Radonic contributed equally.
Abstract
Background
Recently, we demonstrated that losartan reduced the aortic root dilatation rate (AoDR) in adults with Marfan syndrome (MFS); however, responsiveness was diverse. The aim was to determine the role of transforming growth factor-β (TGF-β) as therapeutic biomarker for effectiveness of losartan on AoDR.
Methods
Baseline plasma TGF-β levels of 22 healthy controls and 99 MFS patients, and TGF-β levels after 1 month of losartan treatment in 42 MFS patients were measured. AoDR was assessed by magnetic resonance imaging at baseline and after 3 years of follow-up.
Results
Patients with MFS had higher TGF-β levels compared with healthy controls (121 pg/ml versus 54 pg/mL,
p
 = 0.006). After 1 month of therapy, losartan normalised the TGF-β level in 15 patients (36%); the other 27 patients (64%) showed a significant increase of TGF-β. After 3 years of losartan therapy, patients with a decrease in TGF-β had significantly higher AoDR compared with patients with increased TGF-β (1.5 mm/3 years versus 0.5 mm/3 years,
p
 = 0.04). Patients showing a decrease in TGF-β after losartan therapy had significantly elevated baseline TGF-β levels compared with patients with increased TGF-β (189 pg/ml versus 94 pg/ml,
p
 = 0.05).
Conclusion
Patients responding to losartan therapy with a reduction of the plasma TGF-β level had higher baseline TGF-β levels and a higher AoDR. Most likely, TGF-β levels may be considered to be a readout of the disease state of the aorta. We propose that increased angiotensin II is the initiator of aorta dilatation and is responsible for increased TGF-β levels in MFS. The concept of TGF-β as initiator of aortic dilatation in MFS patients should be nuanced.