01-02-2015 | Original Article | Uitgave 2/2015 Open Access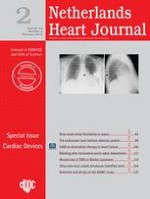 Ultra-thin strut cobalt chromium bare metal stent usage in a complex real-world setting. (SOLSTICE registry)
Tijdschrift:
Auteurs:

M. J. Suttorp, P. R. Stella, J. Dens, J. M. McKenzie, K. S. Park, P. Frambach, on behalf of the SOLSTICE investigators
Abstract
Aim
To report clinical follow-up at 6 months after implantation of the ultra-thin strut cobalt chromium SolarFlex stent in a real-world setting.
Methods and results
Patients (
n
 = 240) with single or multiple vessel coronary artery disease undergoing percutaneous coronary intervention (PCI) at four sites in Europe were enrolled in the SOLSTICE (
Sol
arFlex
St
ent in Routine Clinical Pract
ice)
registry. Follow-up at 6 months was 100 %. Diabetes was present in 29 % of the patients, 30 % presented with acute myocardial infarction and 17 % had unstable angina. Of the patients, 27 % had previously undergone PCI or coronary artery bypass surgery. Lesion complexity was high (50 % B2 + C type lesions). Device success was achieved in 99.7 % of cases and the major adverse cardiac event (MACE) rate was 5.8 % at 6 months of follow-up. Target lesion revascularisation (TLR) was 5.0 % at 6 months.
Conclusions
The SOLSTICE registry showed that in a complex real-world setting the SolarFlex bare metal stent, with ultra-thin struts and customised scaffolding, provided low clinical MACE and TLR rates. These results provide support for the use of the latest generation bare metal stent in contemporary European practice.