20-02-2018 | Original Article | Uitgave 4/2018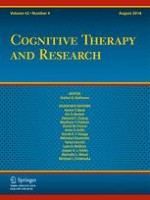 The Moderating Effects of Rumination Facets on the Relationship Between Mindfulness and Distress Reduction
Tijdschrift:
Auteurs:

Sara L. Conley, Hannah E. Faleer, Gina T. Raza, Brenda E. Bailey, Kevin D. Wu
Abstract
Mindfulness-based interventions have many applications, including as a productive alternative to repetitive thoughts. Rumination includes two factors: brooding (moody, maladaptive thinking) and reflection (adaptive attempt to overcome problems). Literature suggests mindfulness interventions reduce ruminative thoughts, but technique effectiveness requires examination. Our study assessed whether mindfulness techniques differ with respect to distress reduction in the context of brooding versus reflective styles. Students (
N
 = 228) completed questionnaires, negative mood manipulation, and a one-session mindfulness training that required either focused attention or open monitoring. Induced distress was reduced in both conditions, but brooding moderated the relationship between condition and distress reduction. Reflection was not a moderator. The findings support the idea that even a modest dose of mindfulness exercise aids in reducing induced negative emotions. Focused mindfulness may be more beneficial for reducing distress in individuals who report high levels of brooding, whereas either technique may reduce distress in individuals who reflect.