01-02-2011 | Original Article | Uitgave 1/2011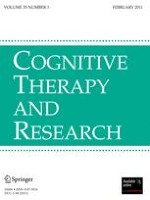 The Interaction Effect of Impulsivity and Responsibility in Relation to Obsessive–Compulsive Symptoms
Tijdschrift:
Auteurs:

Ívar Snorrason, Jakob Smári, Ragnar P. Ólafsson
Abstract
The objectives of the present study were to investigate the relationship between obsessive–compulsive symptoms and impulsivity, and the interaction effects of impulsivity and responsibility in relation to obsessive–compulsive symptoms. A total of 205 university and college students were asked to fill out the Padua Inventory—Washington State University Revision, the Responsibility Attitudes Scale, the Barratt Impulsiveness Scale—version 11 and the Hospital Anxiety and Depression Scale. A sub-sample (
n
= 79) also completed the Stop Signal Task (SST), a performance task that assesses behavioral inhibition (i.e., impulsivity). Obsessive–compulsive symptoms were found to be related to responsibility attitudes and self-reported attentional impulsiveness. There was no association between behavior inhibition (SST) and self-reported impulsivity or obsessive–compulsive symptoms. The interaction between responsibility attitudes and attentional impulsiveness as well as between responsibility and behavior inhibition, added to the prediction of obsessive–compulsive symptoms. These findings indicate that certain aspects of impulsivity influence obsessive–compulsive symptoms in interaction with responsibility attitudes.