01-12-2014 | Review | Uitgave 1/2014 Open Access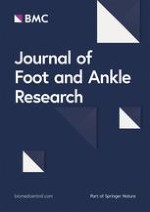 The effectiveness of lasers in the treatment of onychomycosis: a systematic review
Tijdschrift:
Auteur:

Ivan R Bristow
Belangrijke opmerkingen
Electronic supplementary material
The online version of this article (doi:
10.​1186/​1757-1146-7-34
) contains supplementary material, which is available to authorized users.
Competing interests
The author declares he has no competing interests.
Authors' contributions
IB was responsible for the drafting of the paper and conducting the review. All authors read and approved the final manuscript.
Abbreviations
AOTA
American Occupational Therapy Association
DLSO
Distal lateral sub-ungual onychomycosis
FDA
Food and Drug Administration
Nd
YAG: Neodymium:Yttrium Aluminum Garnet (laser)
OSI
Onychomycosis severity index
PAS
Periodic Acid-Schiff stain
PCR
Polymerase Chain Reaction
PWSO
Proximal white sub-ungual onychomycosis
RCT
Randomised Controlled Trial
SWO
Superficial white onychomycosis
TDO
Total dystrophic onychomycosis.
Background
Methods
This study was compiled adopting the "Preferred Reporting Items for Systematic Reviews and Meta-Analyses (PRISMA) guidelines" [
21
]. Any original study, published in a peer reviewed journal, which examined the use of a laser technology in the treatment of onychomycosis (in more than a single case) was considered for inclusion. The primary outcome measure was efficacy, only including studies which employed microbiological or histological procedures to establish an initial diagnosis of the condition, and subsequently measured the outcome either by a repeated microbiological/histological assessment or measured changes in physical nail clearance of discolouration following treatment. Studies which did not follow this procedure were excluded, as were those which stated they exclusively studied fingernail onychomycosis.
Search strategy
An electronic database search was undertaken using PubMed (US National Library of Health Database [June 2014]) and Web of Science® (June 2014) to identify papers which met the initial inclusion criteria. Searches were standardized using a combination of the keywords "onychomycosis", "tinea unguium", "laser", "nail", "rubrum". No date limits were set, but as a relatively new modality, papers over six years old were unlikely. The initial search yielded a total of 268 potential papers. All abstracts were reviewed to remove duplicates and to remove papers which did not meet the inclusion criteria. Papers which met the inclusion parameters were then read in full by the author. Only papers written in English, with full study details available were included in the final suite of papers. This exercise was repeated twice by the author to improve the reliability of the search and prevent eligible papers being missed or excluded (Figure
1
).
×
Review process
Following the selection process, remaining papers were evaluated for their level of evidence using two systems as adopted by Matricciani et al. [
13
]. Firstly, papers were graded using the National Health and Medical Research Council (NHMRC) Hierarchy of Evidence [
22
] scale (see Additional file
1
) and subsequently the American Occupational Therapy Association (AOTA) Evidence based literature Review Project, as adapted by Trombly and Ma [
23
] (see Additional file
2
) as a means to identify threats to validity within the included studies. This system allowed for the objective assessment of published research, graded on the four dimensions of design sample size, internal validity and external validity.
Results
Discussion
The research to date highlights the difficulty in what constitutes an effective "cure" in onychomycosis and how it is measured. Mycological cure is defined as clearance of the nail based on negative mycological test findings such as microscopy, culture and PAS staining, however this can be complicated when an individual may show mixed results when exposed to a range of different mycological tests. Moreover, a negative culture result may not equate to improvement in the nail appearance (known as "clinical cure"). A "complete cure" is a combination of mycological and clinical cure – effectively the nail is free from fungus and visually, returns to normal.
This paper set out to systematically review current evidence in the treatment of onychomycosis employing laser technologies. However, there are potential limitations to this work. Firstly, whilst this review includes papers published and indexed on two large databases (Web of Science® and PubMed), it must be stated that these libraries are not exhaustive and therefore cannot cover all relevant publications. As an emerging modality, searches of the internet reveal much more literature in the form of documents, papers and posters but it is difficult to objectively ascertain their origins, peer review status or whether any conflicts of interest exist. Therefore, only recognised databases have been used for this review. In addition, only studies written in English and which are readily accessible through normal methods have been included.
Conclusion
In the last five years, papers have been published investigating the application of lasers in treating onychomycosis. Twelve studies were identified and included in this review. Most of the published data to date is reported at a low level of evidence predominantly case series involving small numbers of patients and with only two small randomized controlled studies. Outcomes appeared to be measured on visual nail clearance measurements following treatment, mycological evidence of cure or both. Studies with longer follow up periods suggest nail infection relapse occurring in those treated with laser which warrants further investigation. However, overall conflicting results are shown in this review of studies with no clear evidence of efficacy. There were no studies published comparing laser with more traditional therapies in the treatment of onychomycosis. Comparative studies are required with improved design such as longer follow up periods, classification of the type of nail infection and control interventions to truly assess the effectiveness of laser devices in the management of onychomycosis.
This article is published under license to BioMed Central Ltd. This is an Open Access article distributed under the terms of the Creative Commons Attribution License (
http://​creativecommons.​org/​licenses/​by/​4.​0
), which permits unrestricted use, distribution, and reproduction in any medium, provided the original work is properly credited. The Creative Commons Public Domain Dedication waiver (
http://​creativecommons.​org/​publicdomain/​zero/​1.​0/​
) applies to the data made available in this article, unless otherwise stated.
Competing interests
The author declares he has no competing interests.
Authors' contributions
IB was responsible for the drafting of the paper and conducting the review. All authors read and approved the final manuscript.