20-10-2017 | Point of View | Uitgave 4/2018 Open Access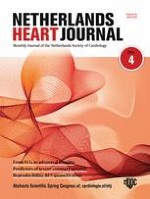 Stroke risk in patients with device-detected atrial high-rate episodes
Tijdschrift:
Auteurs:

Ö. Erküner, M. Rienstra, I. C. Van Gelder, U. Schotten, H. J. G. M. Crijns, J. G. L. M. Luermans
Introduction
Cardiovascular implantable electronic devices (CIEDs) with an atrial lead can detect episodes of atrial arrhythmias, regardless of the presence of symptoms. Device-detected atrial high-rate episodes (AHRE), in the absence of symptoms referred to as subclinical atrial tachy-arrhythmias, are actually quite common. The incidence of AHRE in patients without a history of atrial fibrillation (AF) is approximately 25% after 1 year and 35% after 2 years of follow-up [
1
–
3
]. For patients with a history of AF, the incidence of AHRE is approximately 56–71% after 1 year [
4
–
6
].
AHRE differ from clinical AF in the mode of documentation, i. e. clinical AF is ascertained on an electrocardiogram, whereas AHRE are solely recorded on a CIED read-out [
7
]. Furthermore, AHRE and AF differ regarding thrombo-embolic risk. Clinical AF is associated with an increased risk of thrombo-embolism depending on the presence of risk factors, i. e. the CHA
2
DS
2
-VASc score (congestive heart failure, hypertension, age ≥75 years [doubled], diabetes mellitus, prior stroke [doubled], vascular disease, age 65–74 years and female sex) [
8
]. In AHRE patients, however, the thrombo-embolic risk appears to be lower than in clinical AF [
2
,
6
,
9
–
11
]. The lower thrombo-embolic event rate could be caused by the fact that AHRE are viewed as one entity, whilst there may be different types of AHRE. AHRE with a lower mean atrial rate, i. e. <300 beats per minute (bpm), may not represent AF but rather an atrial tachycardia, which confers a lower thrombo-embolic risk [
12
], whereas AHRE with a mean atrial rate >300 bpm might more robustly represent AF or atrial flutter, leading to an increased thrombo-embolic risk [
13
].
Current guidelines recommend starting anticoagulant therapy in AF patients with a CHA
2
DS
2
-VASc score ≥2 and considering antithrombotic therapy in patients with a CHA
2
DS
2
-VASc score of 1 [
7
,
14
]. For AHRE, however, no recommendations regarding antithrombotic therapy are made in the guidelines, largely because of lack of evidence for any benefit of antithrombotic treatment in patients with AHRE [
7
,
14
].
In this point of view paper, we summarise the evidence regarding thrombo-embolic risk in patients with AHRE, elaborating on the duration of AHRE and on the temporal relationship of AHRE and thrombo-embolism. To conclude, we propose a flowchart for antithrombotic management of these patients.
Current evidence
Conclusion
AHRE are a common finding in patients with pacemakers and defibrillators without a history of atrial fibrillation. AHRE are associated with an increased thrombo-embolic risk, albeit lower than in clinical AF, in part depending on the duration of the AHRE. Based on currently sparse literature, it seems reasonable to start antithrombotic therapy in patients without clinical AF with a CHA 2DS 2-VASc score ≥1 in whom at least one episode of the AHRE lasting >24 hours has been detected, irrespective of the timing and number of AHRE, awaiting definite answers from ongoing randomised clinical trials. In patients with shorter AHRE, current evidence to start antithrombotic therapy in the absence of clinical AF is lacking.
Funding
This work was supported by the Netherlands Heart Foundation (CVON2014-09, RACE V, Reappraisal of Atrial fibrillation: interaction between hyperCoagulability, Electrical remodeling and Vascular destabilization in the progression of AF).
Conflict of interest
Ö. Erküner, M. Rienstra, I.C. Van Gelder, U. Schotten, H.J.G.M. Crijns and J.G.L.M. Luermans declare that they have no competing interests.
Open Access
This article is distributed under the terms of the Creative Commons Attribution 4.0 International License (
http://​creativecommons.​org/​licenses/​by/​4.​0/​
), which permits unrestricted use, distribution, and reproduction in any medium, provided you give appropriate credit to the original author(s) and the source, provide a link to the Creative Commons license, and indicate if changes were made.