01-09-2009 | Empirical Research | Uitgave 8/2009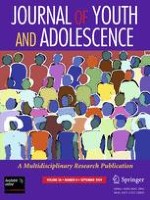 Sexual Behavior and Perceived Peer Norms: Comparing Perinatally Hiv-infected and Hiv-affected Youth
Tijdschrift:
Auteurs:

Jose A. Bauermeister, Katherine Elkington, Elizabeth Brackis-Cott, Curtis Dolezal, Claude Ann Mellins
Abstract
A large proportion of perinatally HIV-infected (PHIV) children are becoming adolescents and exploring their sexuality. This study explored the prevalence of sexual behaviors (kissing, touching, engaging in oral sex, or having vaginal/anal intercourse) in a sample of predominantly ethnic minority youths (
N
= 339; 54.1% Black and 30.4% Latino; 51% female; ages 9–16) perinatally exposed to HIV (61% HIV+). Using logistic regression, we tested the association between sexual behavior and HIV status, demographic characteristics, and peer influences regarding sexual behavior. PHIV youth were less likely to be sexually active. Among sexually active youth, PHIV youth were more likely to engage in touching behavior than HIV-negative youth and were less likely to engage in penetrative sex. Youths reporting that a greater number of their peers believed that sexually active boys were "cool" or "popular" were more likely to report sexual behavior. The association between sexual behavior and peers believing sexually active girls were "cool" or "popular" varied by age, gender, and HIV status. Furthermore, friends' sexual activity was associated with sexual intercourse. Prevention programs should strengthen messages addressing peer norms regarding sexuality, as well as address specific issues related to adolescent HIV.