06-03-2020 | Uitgave 7/2020 Open Access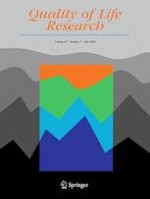 Self-esteem in patients with inflammatory bowel disease
Tijdschrift:
Auteurs:

Randi Opheim, Bjørn Moum, Bjørn Tore Grimstad, Jørgen Jahnsen, Ingrid Prytz Berset, Øistein Hovde, Gert Huppertz-Hauss, Tomm Bernklev, Lars-Petter Jelsness-Jørgensen
Belangrijke opmerkingen
Publisher's Note
Springer Nature remains neutral with regard to jurisdictional claims in published maps and institutional affiliations.
Abstract
Purpose
The purpose of this study was to explore self-esteem and associations between self-esteem and sociodemographic, clinical, and psychological factors in patients with inflammatory bowel disease (IBD)
,
a disease of chronic relapsing inflammation of the gastrointestinal tract. IBD symptoms, including pain, fatigue, and diarrhea, as well as potential life-long medical treatment and surgery, may be demanding, cause significant challenges, and influence self-esteem.
Methods
In this cross-sectional multicenter study, participants were recruited from nine hospitals in the southeastern and western regions of Norway from March 2013 to April 2014. Data were collected using self-report questionnaires. Self-esteem was assessed by the Rosenberg Self-Esteem Scale, fatigue was assessed by the Fatigue Questionnaire, self-efficacy was assessed by the General Self-Efficacy Scale, and disease activity was assessed by the Simple Clinical Colitis Activity Index for ulcerative colitis (UC) and Harvey Bradshaw Index for Crohn's disease (CD). Multiple linear regression analysis was applied to examine associations between self-esteem and sociodemographic, clinical, and psychological factors.
Results
In total, 411 of 452 (91%) patients had evaluable data and were included in this study. The mean scores on self-esteem, self-efficacy, total fatigue, anxiety, and depression were similar between UC patients and CD patients. Male gender, being employed, and higher self-efficacy were independently associated with higher self-esteem, whereas anxiety and depression were independently associated with lower self-esteem. Neither disease activity nor fatigue were associated with self-esteem in the final multiple regression analyses.
Conclusion
Patient-centered interventions that improve self-esteem and reduce anxiety and depression seem to be important to optimize IBD management.