03-07-2015 | Original Paper | Uitgave 2/2016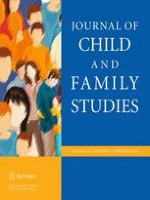 Seesaw Discipline: The Interactive Effect of Harsh and Lax Discipline on Youth Psychological Adjustment
Tijdschrift:
Auteurs:

Justin Parent, Laura G. McKee, Rex Forehand
Abstract
Although extant research documents the negative consequences of harsh and lax discipline for youth, little empirical attention has been devoted to understanding the impact when parents utilize
both
strategies. As such, the current study was designed to explore the interaction of harsh and lax discipline on youth internalizing and externalizing symptoms in three developmental periods (early childhood, middle childhood, and adolescence). Participants were 615 parents (55 % female) and one of their 3–17 year old children (45 % female). Parents provided reports of their harsh and lax parenting tactics as well as offspring internalizing and externalizing symptoms. Multiple linear regression analyses were utilized to examine the relations between the interaction of harsh and lax parenting on youth symptoms. The interaction between harsh and lax discipline was significantly related to youth internalizing, but not externalizing, problems in the both the young and middle childhood samples and marginally significant in the adolescence sample: seesaw discipline—a novel construct indicative of high levels of both harsh and lax discipline—was associated with the highest levels of youth internalizing problems. Parents who engage in seesaw parenting have children and adolescents who are more likely to evidence internalizing symptoms. Such findings may inform prevention and intervention efforts that target dysfunctional discipline.