01-10-2015 | Beschouwing | Uitgave 5/2015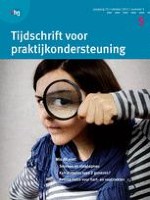 Reumatoïde artritis risicofactor hart- en vaatziekten
Tijdschrift:
Auteur:

prof.dr. Mike Nurmohamed
Belangrijke opmerkingen
Auteursgegevens
VUmc & Reade, centrum voor revalidatie en reumatologie, Amsterdam Rheumatology immunology Center, afdeling Reumatologie: prof.dr. M.T. Nurmohamed, reumatoloog.
Correspondentie: mt.nurmohamed@vumc.nl.
Mogelijke belangenverstrengeling: niets gemeld. Dit artikel is deels een bewerking van Peters MJL, et al. Reumatoïde artritis verhoogt het risico op hart- en vaatziekten even sterk als diabetes mellitus. Ned Tijdschr Geneeskd 2010;154:A1469. Publicatie gebeurt met toestemming van de uitgever.
Reageren?
Jullie mening is belangrijk voor ons. Vragen of opmerkingen? Laat het ons weten via tpo@nhg.org of of via twitter @TPOnhg.
Samenvatting
Nurmohamed M. Reumatoïde artritis risicofactor hart- en vaatziekten. Tijdschrift voor praktijkondersteuning 2015;10(5):158-63.
Patiënten met reumatoïde artritis hebben een verhoogd risico op hart- en vaatziekten vergeleken met de algemene bevolking. Het risico is vergelijkbaar met dat van patiënten met diabetes. Een belangrijke oorzaak blijkt het onderliggende chronische ontstekingsproces te zijn, dat atherosclerose versnelt. Daarnaast blijken ook de algemene risicofactoren voor hart- en vaatziekten vaker voor te komen bij reumatoïde artritis.
Het is duidelijk dat cardiovasculair risicomanagement (CVRM) onontbeerlijk is voor patiënten met reumatoïde artritis. Dit bestaat uit screening, en eventueel behandeling van cardiovasculaire risicofactoren, volgens de herziene Multidisciplinaire richtlijn Cardiovasculair risicomanagement uit 2011 en de NHG-Standaard Cardiovasculair Risicomanagement.
Stem lokaal af wie wat doet, met alle betrokken specialisten. Bij dit multidisciplinaire CVRM zijn dat bijvoorbeeld: de (vasculair) verpleegkundig specialist, de internist, de cardioloog, de huisarts en de praktijkondersteuners, en de reumatoloog. Bij CVRM voor patiënten met reumatoïde artritis is het essentieel om ook zo krachtig mogelijk het ziekteproces te onderdrukken. Dat is vooral een taak voor de reumatoloog.