01-12-2017 | Research | Uitgave 1/2017 Open Access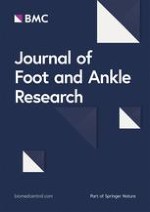 Repeatability and agreement of ultrasonography with computed tomography for evaluating forefoot structure in the coronal plane
Tijdschrift:
Auteurs:

Keisuke Matsubara, Tomofumi Matsushita, Yuto Tashiro, Seishiro Tasaka, Takuya Sonoda, Yasuaki Nakayama, Yuki Yokota, Yusuke Suzuki, Mirei Kawagoe, Tomoki Aoyama
Abbreviations
AUTA
Area under the transverse arch
ICC
Intra-class correlation coefficient
MRI
Magnetic resonance imaging
MS-5thMTH length
The length between the medial sesamoid bone and 5th metatarsal head
Background
Methods
Results
US and CT measurement results are shown in Table
2
. Table
3
shows agreement of US with the CT method, including ICC
3,1
, Pearson correlation coefficient, and the LoA. ICC
3, 1
values for all parameters, except AUTA, were almost perfect according to Landis et al.'s criteria [
30
] (2ndMTH height, ICC
3,1
 = 0.83; MS-5thMTH length, ICC
3,1
 = 0.81; TAH, ICC
3,1
 = 0.86; TAI, ICC
3,1
 = 0.84; SRA, ICC
3,1
 = 0.90; AUTA, ICC
3,1
 = 0.78). Mean differences between the two methods (US measurement – CT measurement) were as follows: 2ndMTH height, −0.18 mm; MS-5thMTH length, −0.78 mm; TAH, 0.36 mm; TAI, 0.86%; SRA, 0.19 °; AUTA, 94.82 mm
2
. Bland-Altman plots are shown in Fig.
4
; almost all points were within limits of agreement, indicating agreement between US and CT measurements. The ICC
1.1
of two US measurements were almost perfect in all parameters for repeatability (Table
3
).
Table 2
US and CT measurement
US

CT

Trial 1

Trial 2

Average

2ndMTH height (mm)

21.2 ± 2.9

20.8 ± 2.8

21.0 ± 2.8

21.2 ± 2.6

MS-5thMTH length (mm)

62.6 ± 3.3

62.7 ± 3.3

62.7 ± 3.2

63.4 ± 2.8

TAH (mm)

13.4 ± 2.1

13.4 ± 2.2

13.4 ± 2.1

13.1 ± 2.2

TAI (%)

21.6 ± 3.5

21.4 ± 3.6

21.5 ± 3.4

20.7 ± 3.6

SRA (°)

16.1 ± 8.1

16.2 ± 7.1

16.1 ± 7.3

15.9 ± 8.1

AUTA (mm 2)

902.0 ± 120

891.3 ± 112.7

896.7 ± 112.4

801.9 ± 111.4
Table 3
Intra-rater agreement of the US measurement and agreement scores between US and CT measurements
Limits of agreement (95% CI)

ICC 1,1 (95% CI)

ICC 3,1 (95% CI)

Mean (95% CI)

Difference (95% CI)

Lower

Upper

2nd MTH height (mm)

0.88 (0.79, 0.92)

0.83 (0.74, 0.90)

0.80

21.13 (20.49, 21.77)

−0.18 (0.39, 1.53)

−3.24 (−3.63,−2.86)

2.88 (3.27, 2.49)

MS-5thMTH length (mm)

0.92 (0.87, 0.95)

0.81 (0.70, 0.89)

0.79

63.05 (62.32, 63.78)

−0.78 (−1.27,−0.32)

−4.55 (−5.02,−4.07)

2.98 (2.48, 3.43)

TAH (mm)

0.84 (0.74, 0.90)

0.86 (0.78, 0.91)

0.86

13.26 (0.52, 2.06)

0.36 (0.64, 0.08)

−1.90 (−1.61,−2.18)

2.62 (2.33, 2.90)

TAI (%)

0.87 (0.80, 0.92)

0.85 (0.78, 0.91)

0.84

21.08 (20.23, 21.94)

0.86 (−2.94, 4.66)

−2.94 (−3.42,−2.46)

4.66 (4.18, 5.14)

SRA (°)

0.85 (0.76, 0.91)

0.89 (0.83, 0.93)

0.90

16.03 (14.15, 17.91)

0.19 (−0.71, 1.09)

−6.90 (−7.80,−6.00)

7.27 (6.38, 8.17)

AUTA (mm 2)

0.86 (0.78, 0.92)

0.78 (0.66, 0.86)

0.78

849.27 (822.76, 875.78)

94.82 (76.32, 113.32)

−51.39 (−69.89,−32.89)

241.03 (222.53, 259.52)
×
Discussion
Regarding the evaluation of forefoot structure, we investigated agreement between US and CT measurements for reliability and intra-rater agreement of two US scans taken at a single time point for repeatability. Based on this investigation, the most important finding of this study was demonstrating agreement with CT and repeatability of forefoot US evaluation (2ndMTH height, MS-5thMTH length, TAH, TAI, SRA, and AUTA) of the feet of adult women without a history of foot surgery, congenital disorders, or systemic diseases. Compared to CT, the LoA indicated good agreement and the ICC
3, 1
indicated almost perfect correlation, and US showed almost perfect repeatability. Considering that CT evaluation of forefoot structure has been validated [
22
], US could be estimated to have good validity for evaluating forefoot structure. Some studies have explored the reliability of plantar musculoskeletal evaluations with US for muscles [
35
], bursitis, erosions, and synovitis [
27
]; this is the first study known to assess the reliability of US for evaluating bony forefoot structure alignment in detail. These results support the use of US in clinical practice to evaluate forefoot structure in real time, as it is less burdensome to patients than other methods. MRI and CT must be performed in enclosed spaces, which causes burden and stress to the patient, and they are expensive; MRI, especially, takes a long time, and CT emits radiation to patients.
A Bland-Altman plot demonstrated agreement of the US with CT method. Almost all points lay within the LoA, indicating good reliability of US methods for every parameter. Some points fell outside the LoA, likely because some images obtained from the same participant may have reflected different forefoot placement on US and CT. Despite using the same landmarks, spatial differences between the US probe contact angle and the CT scan angle could produce inaccurate measurements. In addition, it is undeniable that the scanned position of metatarsophalangeal joints was the same between US and CT scans, which might also lead to less agreement between US and CT scans because of the difference in the scanned position.
In studies measuring the 2ndMTH height and SRA, Wang et al. [
24
] and Gooding et al. [
28
] showed the 2ndMTH height was 13.6 and 14.2 mm, measured by US in an unloaded position; the 2ndMTH height values in our study were larger (21.1 mm by US, 21.3 mm by CT). In our method, the 2ndMTH height was measured at the more proximal part of the 2nd metatarsal because the imaging landmarks in the coronal plane were the 1stMTH and 5thMTH. The more proximal the metatarsal position measured, the higher the value, which produced our relatively higher values. It is also considered that 2ndMTH height might be affected by participants' characteristics, such as fat volume, muscle volume and foot size, which could be associated with soft tissue thickness. Kuwano et al. [
7
] compared SRA in patients with hallux valgus to a control group using radiography, and they reported mean SRA values of 29.3° in the hallux valgus group (hallux valgus angle 20° or greater) and 7.4° in the control group. The mean SRA values in our study were 16.0° by US and 15.8° by CT, which were larger than those of the control group in Kuwano et al.'s study. As SRA is greater with hallux valgus [
7
] and 16 ft (26.7%) with a hallux valgus angle 20° or greater were found in our participants (Table
1
), our SRA values were large.
Until now, the transverse arch has been evaluated by measuring only soft tissue. The transverse arch height is affected by plantar muscle and fat pad thickness; however, the TAH indicates transverse arch bony alignment excluding soft tissue. The TAI indicates the transverse arch height adjusted for foot size in the coronal plane, which was defined as the MS-5thMTH length. Length parameters in the foot such as the TAH are affected by foot size; they need to show reliability of the MS-5thMTH length as a foot size in the coronal plane, which is useful to adjust foot structure parameter, and it is a constructional element that can contribute to better reliability of the TAH and TAI. The TAH and TAI are useful for evaluating the transverse arch bony structure and related hallux valgus [
5
]. The AUTA indicates forefoot bony alignment and soft tissue thickness in the coronal plane for the overall transverse arch. Using the AUTA, it is possible to determine whether the transverse arch is collapsed or the soft tissue under the transverse arch is compacted. The former is when the AUTA has no changes between weight-bearing and non-weight-bearing, and the latter is when the AUTA becomes smaller in weight-bearing than in non-weight-bearing. Therefore, better accuracy of the AUTA measurement would offer a better understanding of the transverse arch function and structural forefoot change in foot deformities due to diabetes, which are associated with plantar soft tissue thickness. Evaluating the transverse arch using these parameters can clarify whether the bony structure or soft tissue affects the function of the transverse arch and foot disease associated with the transverse arch. We therefore propose using TAH, TAI, and AUTA as new parameters for transverse arch evaluation. As it is not yet known how these parameters compare with clinical assessments, these parameters could be tested in future work that assesses dynamic change during gait.
There were some limitations to this study. The interval was short between the two US scans, and the drawn landmark on the plantar surface for US scans was the same for both US scans. The short interval could increase the ICC 1,1. Although the drawn landmark was only a reference of the initial placement of the US probe, the placement of the US probe and obtainment of the US image was conducted mainly with more attention paid to the screen image of US, regardless of the location of the landmark. Hence, the same landmark within both US scans had less impact on the intra-rater reliability of the US evaluation. There was a certain time gap between the US and CT examinations. However half of the participants were evaluated by both methods within a day, so the time gap was maximally 3 weeks, which might affect agreement between the two methods. This study was limited in that inter-observer reliability of US was not assessed. As US evaluation is dependent on the examiner's skill, inter-observer reliability may be increased by well-trained examiners. Our research was insufficient to confirm the validity of US evaluation of the forefoot; however, agreement with CT evaluation was confirmed. Considering these limitations, more work needs to be undertaken in the future to determine the validity of US evaluation of the forefoot compared with a clinical assessment.
Conclusions
This study showed good agreement of US forefoot structure evaluation with CT as a gold standard in adult women. This has value as a non-invasive, convenient, and inexpensive forefoot evaluation in various fields with access to US. US could provide an opportunity to perform a forefoot evaluation that is less burdensome to patients in clinical practice, and it could be useful for foot screening for risk factors such as the SRA and TAH, and 2ndMTH height, which are indicative of hallux valgus and metatarsalgia, respectively. As this study had some limitations such as a lack of inter-observer reliability, short interval for repeatability, and lack of validity, more research should be performed to confirm US evaluation of the forefoot with a high reliability and validity.
Acknowledgements
The radiological technologist at Kyoto Hakuaikai Hospital conducted computed tomography scanning. We wish to thank the staff at the Kyoto Hakuaikai Hospital for their efforts in supporting our research. We would like to thank Editage (
www.​editage.​jp
) for English language editing.
Funding
No funding was received for this study.
Availability of data and materials
The dataset supporting the conclusions of this article is included within the article and its Additional file.
Authors' contributions
KM and TA designed the study. KM conducted echocardiography scan, image, and statistical analyses, and drafted the manuscript. YT, ST, TM, TS, YN, and YY assisted in performing the echocardiography scan. TM, YS and MK assisted in drafting the manuscript. All authors have read and approved the final manuscript.
Competing interests
The authors declare that they have no competing interests.
Consent for publication
Written informed consent for publication was obtained from all participants.
Ethics approval and consent to participate
This study was performed in accordance with the current local guideline and the Declaration of Helsinki, and it was approved by the Ethical Committee for Human Experiments (R0297) of Kyoto University. Written informed consent was obtained from all participants in this study.
Publisher's Note
Springer Nature remains neutral with regard to jurisdictional claims in published maps and institutional affiliations.
Open Access
This article is distributed under the terms of the Creative Commons Attribution 4.0 International License (
http://​creativecommons.​org/​licenses/​by/​4.​0/​
), which permits unrestricted use, distribution, and reproduction in any medium, provided you give appropriate credit to the original author(s) and the source, provide a link to the Creative Commons license, and indicate if changes were made. The Creative Commons Public Domain Dedication waiver (
http://​creativecommons.​org/​publicdomain/​zero/​1.​0/​
) applies to the data made available in this article, unless otherwise stated.