25-02-2020 | Original Paper | Uitgave 7/2020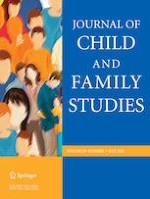 Raising Girls with Emotional and Behavioral Challenges: An Exploration of Caregiver Perceptions
Tijdschrift:
Auteurs:

Elisabeth H. Rice, Margaux H. Brown, Darcie Whitlow, Karen Ihrig, Kandace M. Hoppin, Melissa Boston, Adelaide Kelly-Massoud, Amy Srsic
Belangrijke opmerkingen
The original version of this article was revised: The original version of this article unfortunately contained a mistake. The error pertains to Discussion, Paragraph 2, beginning with the second sentence. After the first sentence of the paragraph, the rest of the paragraph should read: These multifaceted behavioral profiles suggest that professionals should look beyond the stereotypical notion of "sad girls" and "bad boys" (Peter & Roberts 2010). Future researchers should also consider if measuring the behaviors for girls with emotional and behavioral challenges using an externalizing and internalizing continuum is an accurate way to measure their behaviors. This finding echoes conclusions from Vaughan et al. (2012), who noted that a child's expression of both externalizing and internalizing behaviors is linked to greater caregiver strain. The original article has been corrected.
Publisher's note
Springer Nature remains neutral with regard to jurisdictional claims in published maps and institutional affiliations.
Abstract
Objectives
Caregivers of youth with emotional and behavioral challenges can experience isolation, stigma, and a lack of resources as well as parental stress and caregiver strain. Few studies have qualitatively explored caregivers' perceptions of raising girls with emotional and behavioral challenges. A team of researchers explored three research questions: (1) How do caregivers of girls with emotional and behavioral challenges perceive their experiences with their daughters at home and in school? (2) What do caregivers perceive to be the most helpful at home or school for their daughters, and (3) What are the constructs of parent coping among caregivers of girls with emotional and behavioral challenges?
Methods
Researchers used a snowball sampling method to recruit and then conduct semi-structured interviews with 16 caregivers from urban, suburban, and rural areas.
Results
Results indicated that caregivers perceived their daughters' behaviors to be complex, that schools failed to identify girls for services and used reactive rather than proactive services, and that therapy and medication were helpful to the daughters and families. Additionally, caregivers reported coping through focusing on outside activities and through the support of family and friends.
Conclusions
Themes from this study were congruent with findings in caregiver strain literature. Caregivers also discussed managing the negative reactions of others and wanting to feel understood.