29-11-2019 | Original Paper | Uitgave 7/2020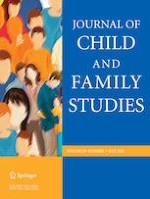 The Explanatory Mechanism of Child Impulsivity in the Bidirectional Associations between Parental Psychological Control and Child Physical Aggression
Tijdschrift:
Auteurs:

Yuanyuan Chen, Jianjun Zhu, Chengfu Yu, Mengxia Wang, Yingxian Zhu, Wei Zhang
Belangrijke opmerkingen
Publisher's note
Springer Nature remains neutral with regard to jurisdictional claims in published maps and institutional affiliations.
Abstract
Objectives
Parental psychological control is a stressor that may provoke children's aggression. However, whether there are bidirectional associations between parental psychological control and children's physical aggression remains unclear, as does the mechanism underlying these associations. Using an autoregressive cross-lagged model, the present study tested (a) the extent to which parental psychological control predicts physical aggression and vice versa, and (b) whether child impulsivity explains this bidirectional association.
Methods
Data were collected across three time points (fall semester of 4th grade, spring semester of 4th grade, and fall semester of 5th grade). A sample of 689 children (385 boys, 304 girls) completed questionnaires regarding parental psychological control, impulsivity and physical aggression. Gender, age and socioeconomic status were controlled in the analyses.
Results
As hypothesized, the findings showed that there was a direct longitudinal connection from parental psychological control to child physical aggression, and the inverse relation was also significant. Moreover, the results demonstrated an indirect link from parental psychological control to physical aggression via child impulsivity, but the inverse effect was not significant.
Conclusions
Our findings suggest that there is a reciprocal relationship between parental psychological control and children's physical aggression, and that the parent-driven component of this bidirectional process is mediated by child impulsivity. The results have potential applied value for prevention and intervention.