31-08-2016 | Original Article | Uitgave 12/2016 Open Access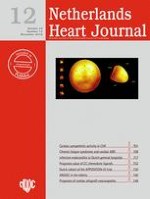 Pre-hospital management, procedural performance and outcomes for primary percutaneous coronary intervention in ST-elevation myocardial infarction in the Netherlands: Insights from the Dutch cohort of the APPOSITION-III trial
Tijdschrift:
Auteurs:

N. S. Vos, G. Amoroso, M. J. Grundeken, A. J. J. Ijsselmuiden, R. J. M. van Geuns, R. Spaargaren, J. G. P. Tijssen, K. T. Koch
Introduction
Methods
This is a retrospective analysis from the APPOSITION-III trial with respect to the geographical borders of STEMI management. The APPOSITION-III trial was a real-life, prospective, multicentre, European, one-arm, post-market registry for the use of the STENTYS self-expandable stent (STENTYS S.A., Paris, France) in STEMI patients undergoing PPCI. The design and results of the APPOSITION-III trial have been published in detail previously [
6
]. This original manuscript provides information about the inclusion and exclusion criteria and study population flow chart. Briefly, patients were eligible for inclusion in the study if they presented with a STEMI caused by a de novo stenosis in a native coronary artery. The primary endpoint was the composite of major adverse cardiac events (MACE) at one-year post-procedure. A total of 965 patients were enrolled in 51 hospitals in 14 European countries, mainly in the Netherlands (
n
= 420, 43.5 % of the overall study population, see appendix A for participating centres in the Netherlands). The remaining patients were enrolled in Germany (
n
= 165), France (
n
= 131), and 11 other European countries. The data from the Dutch cohort were compared with both the overall study population, and the French and German cohorts, respectively.
Statistical analysis
Continuous variables are presented as mean (± standard deviation) if normally distributed or median (interquartile range) in case of not-normal distribution. Categorical variables are presented as frequencies and percentages. Comparisons between groups were performed using one-way ANOVA (normal distributed continuous variables), Kruskal-Wallis (not-normal distributed continuous variables) or Chi-square test (categorical variables), where appropriate. The cumulative event rates in the Dutch subgroup vs. the French and German cohorts were compared using the log-rank test. A
p
-value of ≤0.05 is considered statistically significant. The statistical analyses were performed at the Academic Medical Center (Amsterdam, the Netherlands) using the SPSS software package (version 19.0, IBM, Chicago, IL, USA).
Results
Discussion
Another important factor influencing the restoration of coronary flow in the infarct-related vessel and related myocardial tissue reperfusion is the routine use of peri-procedural dual antiplatelet (DAPT) (Class 1 A) and antithrombotic medication such as unfractionated heparin (Class 1 C). The analysis of the Dutch subgroup of the Apposition-III trial shows adequate peri- and post-procedural medical treatment in 95 %, and 98 % at discharge, respectively. In particular, the comparison of the preloading strategy with the German cohort shows important differences in the APPOSITION-III trial.
Limitations
As already mentioned, the Dutch population described in this study was retrospectively extracted from a multicentre, albeit all-comers, registry. Due to an inclusion bias (partly consecutive enrolment) and the limited amount of patients included, this study cannot be considered a true epidemiological study, but merely a snapshot with possible clinical implications. Moreover, the APPOSITION-III trial was performed in teaching and university hospitals, which may not entirely represent the reality of any country as a whole. Time to first medical contact, as well as door-to-balloon time are important parameters for quality assessment in STEMI. Neither of these data were captured in the APPOSITION-III study; therefore we can only indirectly extrapolate the Dutch performance on so-called 'system delay'.
Conclusion
In the Dutch cohort of an European multicentre STEMI study (APPOSITION-III trial), the performance in terms of symptom-to-balloon time, and pre-, peri- and post-procedural medical treatment matches the recommendation of ESC STEMI guidelines.
Acknowledgements
All the Investigators of the APPOSITION-III trial.
Conflict of interest
N.S. Vos, G. Amoroso, M.J. Grundeken, A.J.J. Ijsselmuiden, R.J.M. van Geuns, R. Spaargaren, J.G.P. Tijssen and K.T. Koch state that they have no competing interest.
Open Access
This article is distributed under the terms of the Creative Commons Attribution 4.0 International License (
http://​creativecommons.​org/​licenses/​by/​4.​0/​
), which permits unrestricted use, distribution, and reproduction in any medium, provided you give appropriate credit to the original author(s) and the source, provide a link to the Creative Commons license, and indicate if changes were made.
Appendix A
Participating centres
The Netherlands
Onze Lieve Vrouwe Gasthuis (Amsterdam): 100 patients (23.8 %)

Academic Medical Center (Amsterdam): 100 patients (23.8 %)

Albert Schweitzer Hospital (Dordrecht): 89 patients (21.2 %)

Erasmus Medical Center (Rotterdam): 63 patients (15 %)

St. Antonius Hospital (Nieuwegein): 38 patients (9 %)

VU Medical Center (Amsterdam): 17 patients (4 %)

Scheper Hospital (Emmen): 8 patients (1.9 %)

Amphia Hospital (Breda): 5 patients (1.2 %)
Germany
SLK-Kliniken Heilbronn (Heilbronn)

Evang. Bethesda Johanniter (Duisburg)

Klinikum Neuperlach (Munich)

Elisabeth-Krankenhaus (Essen)

Klinikum Coburg

Universitätsklinikum Giessen und Marburg

Herz- und Diabeteszentrum NRW (Bad Oeynhausen)

Klinikum der Universität (Munich)

Klinikum Bogenhausen
France
CHU La Pitié-Salpêtrière (Paris)

Clinique Saint-Hilaire (Rouen)

Institut Hospitalier Jacques Cartier (Massy)

CHU Henri Mondor (Créteil)

Centre Cardioloque d'Evecquemont

Clinique de l'Europe (Amiens)

La Roseraie (Aubervilliers)

Centre Hospitalier Victor Dupouy (Argenteuil)