31-08-2016 | Original Article | Uitgave 12/2016 Open Access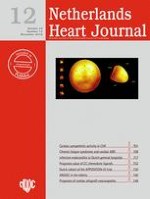 Clinical characterisation and risk stratification of patients with arrhythmogenic right ventricular dysplasia/cardiomyopathy ≥50 years of age
Tijdschrift:
Auteurs:

M. J. van der Pols, T. P. Mast, P. Loh, J. F. van der Heijden, M. J. Cramer, R. N. Hauer, A. S. J. M. te Riele
Abstract
Purpose
With the increased use of genetic testing for arrhythmogenic right ventricular dysplasia/cardiomyopathy (ARVD/C), this disease is being increasingly recognised among elderly patients. However, elderly ARVD/C patients were underrepresented in prior cohorts. We aimed to describe the phenotypical characteristics and outcomes among ARVD/C patients surviving ≥50 years.
Methods
We assessed detailed phenotypical data of 29 patients who (1) presented at ≥50 years of age; and (2) fulfilled 2010 Task Force Criteria (TFC) for ARVD/C by last follow-up. Primary outcome was the occurrence of a major ventricular arrhythmia (sudden cardiac death, resuscitated sudden cardiac arrest or sustained ventricular tachycardia).
Results
The majority (55 %) of elderly ARVD/C subjects were male, with a mean age of 59.0 ± 5.8 years at presentation. Study participants fulfilled a median of six (IQR 5–8) TFC criteria by last follow-up, of which arrhythmia criteria were most frequent (97 %), followed by structural criteria (83 %), depolarisation criteria (72 %) and repolarisation criteria (69 %)
.
By last follow-up, 15 (52 %) patients had experienced major ventricular arrhythmias. Most patients (
n
= 12) presented with this arrhythmia, while three experienced the event during 5.4 ± 3.2 years of follow-up. Compared with patients without an arrhythmic event, patients with major arrhythmias were more likely to be proband (
p
< 0.001) and male (
p
= 0.042). Likewise, survival free from sustained ventricular arrhythmia was lower among probands and males.
Conclusion
Phenotypic characteristics of elderly ARVD/C patients are characterised by depolarisation abnormalities and structural cardiac changes. Ventricular arrhythmias in this elderly cohort are associated with male gender and proband status.