12-06-2017 | Original Paper | Uitgave 11/2017 Open Access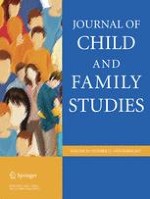 Parents' Social Status and Children's Daily Physical Activity: The Role of Familial Socialization and Support
Tijdschrift:
Auteurs:

Michael Mutz, Peggy Albrecht
Introduction
This paper aims to better understand the inner-familial transmission process through which social inequalities translate into differences in MVPA levels in children. We analyze this process in the age group of 6- to 11-year old children, an age in which the course is likely to be set for later life-stages due to a habitualization of sport and exercise patterns. In this study physical activity measures derived from the children and questionnaire data collected from the parents are combined. Physical activities are recorded with accelerometers, a technology which allows to assess objectively the duration and intensity of physical activities performed by the children. This measure thus includes MVPA beyond the narrow scope of organized sports and physical education, for instance, walking, playing at playgrounds or romping around. Individual differences in daily levels of physical activity are then explained by a multitude of possible socialization factors, collected with parent questionnaires. This allows to identify the most important 'transmission belts' that lead from parents' attitudes, values and behaviors to their offspring's daily physical activity routines. Based on the results of previous research it is hypothesized that MVPA in children increases with (1) a higher educational level of the parents; (2) a higher income level of the family; (3) the support the child receives from parents for sports activities; (4) the sports activities the parents pursue for themselves; (5) the parents' belief in sport-for-good, i.e. in sports' capacity to positively impact personality and development; (6) the sports equipment available in the family's home.
Method
Participants
Participants were 150 pupils in elementary schools together with their parents. All families lived in Göttingen, Germany, a medium size university town with 116,000 inhabitants. The families participated voluntarily in this study and were contacted via schools. For this purpose, three elementary schools were selected, which all are characterized through a socially and ethnically mixed composition of the student body. The children in the final sample were in the age range between 6 and 11 years (
M
 = 8.23, SD = 1.24,
Min
 = 6,
Max
 = 11). The sample consists of 80 boys (53%) and 70 girls (47%). Various socio-economic strata (according to income and educational levels) as well as ethnic backgrounds are represented. For instance, 35% of the children have a migration background, that is, either the child or the parents are born in a foreign country. A detailed sample description is given in Table
1
.
Table 1
Sample description
Sample description

Mean

Median

SD

Min

Max

MVPA

73.2

71.9

25.8

18.9

145.8

VPA

23.5

22.7

13.6

2.4

71.3

MPA

49.7

49.4

14.4

14.9

84.0

Child's gender a

0.47

–

–

0.0

1.0

Child's age

8.23

8.00

1.24

6.0

11.0

Child overweight/obese b

0.11

–

–

0.0

1.0

Immigrant background c

0.35

–

–

0.0

1.0

Religious affiliation d

0.84

–

–

0.0

1.0

Mean daily temperature

9.23

8.70

5.56

−2.24

23.9

No. of children

2.16

2.00

0.84

1.0

5.0

Parents age

40.2

40.5

6.07

26.0

55.0

Parents net income

4.47

4.50

2.19

1.0

8.0

Parents education

3.79

4.00

1.12

1.0

5.0

Parents sports activity

3.01

3.00

1.18

1.0

5.0

Parents support for sport

3.23

3.25

0.62

1.75

4.5

Parents belief in sport-for-good

4.50

4.60

0.45

2.8

5.0

Sports equipment at home

9.11

9.00

2.89

1.0

16.0
Procedures
At the core of this research are effects of family SES and support on objectively-measured physical activity levels in children. Data collection took place between June 2015 and May 2016. Except from summer breaks and Christmas holidays, data was collected in four families each week. Children wore a triaxial accelerometer (ActiGraph GT3X+) for 6 consecutive days (Wednesday to Monday) on an elastic belt over the hip. Wearing time was defined as wake time and thus started in the morning directly after awakening and ended when the child went to bed in the evening. At one occasion during the week, the parents were asked to fill out a questionnaire addressing their socio-economic and socio-cultural resources as well as parental support for the child's activities. During the whole week every family was supervised by a research assistant, who explained the functioning and carrying method of the accelerometer, adjusted the device to the child's body proportion, so that convenience while wearing was assured, and inquired about wearing compliance. At the end of the data collection a compensation of 80 € was disbursed to the family.
Measures
Objective physical activity
Objective physical activity was collected via accelerometer. Activity data were stored at 10-s intervals. Non-wear-time, defined as at least 10 min with consecutive counts of zero activity, was removed from the summation of overall wear-time. Two children whose wear time did not reach at least 480 min per day for at least three weekdays and one weekend day were excluded from the analyses. However, for 148 children the activity scores were calculated based on all days with a wearing time above 480 min, usually 5 or 6 days. As long as mean scores are based on at least 4 days, they are considered valid measures for 'general' physical activity (Gabrys et al.
2015
). Time spent in moderate and vigorous physical activity (MPA, VPA) was extracted, using the recommended thresholds reported by Evenson et al. (
2008
). Thus, intensity thresholds applied were 2296 to 4011 counts per minute for MPA and >4012 counts for VPA.
Education
Parents could indicate their highest educational degree accomplished, from (1) 'no degree', (2) 'lower secondary level' (9 years of school attendance), (3) 'medium secondary level' (10 years of school attendance), (4) 'upper secondary level' (12 to 13 years of school attendance) to (5) 'tertiary level' (including all university degrees). The mean score of both parents is used.
Net income
In one parent questionnaire the net household income was inquired. Eight answer categories were provided, ranging from (1) <1000 €, (2) 1000–1500 €, (3) 1500–2000 €, (4) 2000–2500 €, (5) 2500–3000 €, (6) 3000–4000 €, (7) 4000–5000 € to (8) >5000 €. Income classifications are widely used in German survey research, e.g. the German General Social Surveys (
www.​gesis.​org/​en/​allbus
).
Parents sports activities
were assessed via questionnaire. Parents were both asked to indicate how long they exercised in the last week. Answer categories include (1) 'less than 30 min', (2) '30 to 60 min', (3) '1 to 2 h', (4) '2 to 4 h' and (5) 'more than 4 h'. The mean score of both parents' exercise duration was calculated. Similar measures which focus on the last week and ask for a summation of sports activities in hours and minutes have been widely used (for a review: Sylvia et al.
2014
). However, previous studies often start with '<60 min' (Karageorghis et al.
2005
). To be better able to differentiate activity levels among less active individuals, we started with '<30 min'.
Parents support for sports activities
was assessed with 4 items, which refer to instrumental support for sport activities, namely: 'I exercise together with my child'; 'I watch my child doing sport'; 'I talk with my child about sport'; and 'I drive my child to his/her sports activities'. Similar items have been used by Trost et al. (
2003
). Answer categories ranged from (1) 'never' to (5) 'very often'. The final scale represents the mean of both parents' answers. The scale has a unidimensional structure with all four items representing the same underlying factor. The reliability of the scale is acceptable (α = .75).
Parents belief in sport for good
was measured with 5 items that referred to the belief in sports' capacity to promote 'character building and personality development'; 'a positive body image'; 'fairness and cooperation'; 'social integration'; and 'fitness and health' among children. Both parents indicated their (dis)agreement with these statements on a 5-point Likert scale with (1) 'totally disagree' and (5) 'totally agree'. The final 'Sport-for-Good' scale was calculated as the mean of both parents' attitudes. The scale has a unidimensional structure, too, and its reliability can be considered acceptable (α = .74). Similar items have been used, for instance, in the 2007 International Social Survey Programme Module on 'Leisure Time and Sport' (ISSP Research Group
2009
).
Sports equipment in the home environment
was measured with an index of sports equipment available to the child at home. Parents were asked if their child has or can make use of a football, a basketball, a volleyball, a bicycle, diving goggles, a cross trainer, gym shoes, a sleigh, weights, a trampoline, skis, a Frisbee, a skateboard, roller skates, ice skates, a tennis or a badminton racket. The index was computed as the sum of all devices mentioned.
The four measures for sports-related socialization practices in the family, namely parents' sports activities, parental support, parent's beliefs in sport and the sports equipment at home, are only weakly correlated with Pearson correlations (
r
) between .07 and .26 (Table
2
). Hence, they measure distinct aspects of the socialization process and it can be assumed that each aspect can potentially influence physical activity patterns of children independently.
Table 2
Correlations between measures for sports-related socialization in the family
Pearson correlations

(1)

(2)

(3)

(4)

(1) Parents' sport activities

–

(2) Support for sport activities

.13

–

(3) Belief in sport-for-good

.15

.26**

–

(4) Sports equipment at home

.07

.17*

.11

–
Controls
Regression weights for the above mentioned substantial variables are only estimated correctly, if confounding factors which are known to impact MVPA are controlled for. To control for characteristics of children, gender, age and weight status were considered as covariates. Weight status is used as a dummy variable, based on the child's Body Mass Index, and separates overweight and obese children whose BMI is above the 90th percentile, according to national references (Robert-Koch-Institut
2013
), from the rest. Furthermore, controls for the number of children in the household, the family's religious affiliation and for an immigrant background were also included into the regression models. Previous studies from Germany (Burrmann et al.
2015
) have shown that these factors determine children's membership in sports clubs, so that it is likely that MVPA levels are also affected. Additionally, the parents' age was included as it seems likely that younger parents are more active by themselves and play sport together with their children more often. The models also include a measure for mean daily temperature, as previous studies have shown that children's MVPA is likely to vary with outside weather conditions (Lewis et al.
2016
).
Data Analyses
In a first step we describe the distribution (
M
, SD) of MPA, VPA and MVPA in our sample and document the proportion of children who reach WHO recommendations for daily physical activity. In order to describe the level of social inequality in MVPA, bivariate associations between the household's income and the parents' educational level with children's MVPA are shown in a second step. In a third step, stepwise multiple regression models are calculated which point to robust dependencies between different aspects of sport-related socialization in the family and children's daily physical activity routines. In particular, these model may give further clues on the mechanisms and intergenerational transmission paths which lead from social inequality among families to different levels of MVPA among children.
Results
MVPA Levels in Children
To assess the level of objective physical activity in 6- to 11-year old children, mean values and standard deviations for objective MPA, VPA and MVPA are documented (Table
1
). According to accelerometer data, children in this age group were physically active for 73.2 min per day, on average. This amount of MVPA can be separated into 49.7 min of MPA and 23.5 min of VPA per day. The WHO recommendation of 60 min of MVPA was accomplished by 34% of the children in at least 5 of the 6 days where physical activity was recorded. Individual mean values of MVPA range from 18.9 min per day for the least active child up to 145.8 min for the most active child, thus indicating huge differences.
Social Inequality of MVPA in Children
Individual differences in MVPA are moderately associated with family SES, as measured with parent's educational level (
F
 = 6.23, η² = .118,
p
 = .001; see Fig.
1
) and parent's net income (
F
 = 4.94, η² = .102,
p
 = .003; see Fig.
2
). Children whose parents have accomplished tertiary education reach mean MVPA levels of 82.6 min, whereas children with parents having lower secondary education achieve 57.2 min per day. Children from families with a net income above 4000 € per month reach 85.8 min of MVPA, whereas children from families with a household net income below 2000 € come at 63.0 min per day. The next section aims at explaining these differences.
×
×
Predictors of MVPA in Children
A multiple regression analysis with MVPA as the dependent variable was run (Table
3
). Variables were included in three steps into the model: first, the characteristics of the children (
model 1
); second, substantial and control variables for characteristics of the family (
model 2
); third, variables for parental sports-related lifestyle and support (
model 3
). Results for the child's characteristics reveal a significant effect for gender. The gender effect is of remarkable size and indicates that girls spent 27.6 min per day less with MVPA compared to boys (
b
 = −27.6; β = −.52;
p
 < .01). Gender is the most important predictor in the regression model. Weight status and age are not significantly associated with MVPA levels.
Table 3
OLS Regression model for objective levels of MVPA in children
MVPA I

MVPA II

MVPA III

β

β

β

Child characteristics

Gender

Age

.128

.323

.249

Overweight/obesity

.266

2.49

.03

.678

4.57

.06

.424

Parents SES*

Parents' net income

–

–

–

1.74

.14

.069

1.66

.13

.069

Parents' education

–

–

–

Parents lifestyle and support*

Parents' sport activities

–

–

–

–

–

–

Support for sport activities

–

–

–

–

–

–

Belief in sport-for-good

–

–

–

–

–

–

Sports equipment at home

–

–

–

–

–

–

1.09

.11

.068

Controls

Migrant background

–

–

–

0.16

.00

.969

2.45

.04

.524

Religious affiliation

–

–

–

No. of children

–

–

–

2.58

.08

.292

3.29

.10

.158

Parents' age

–

–

–

.465

.207

Mean temperature

–

–

–

0.62

.13

.089

0.28

.06

.423
Socio-economic status variables are introduced in the second step, together with controls for possibly confounding family characteristics. The multiple regression lends additional support that the parents' education is associated with MVPA in children (
b
 = 4.62; β = .19;
p
 = .029). Financial resources have almost the same importance for MVPA, however the effect fails to reach conventional levels of significance (
b
 = 1.74; β = .14;
p
 = .069). Concerning the control variables, a religious affiliation of the parents has a positive effect on MVPA in children. Immigrant children accumulate similar levels of MVPA as native German children. For the number of children in the household and the parents' age no significant results are revealed. The same applies to mean daily temperature, although the effect points into the expected direction that children accumulate more MVPA on warmer compared to colder days.
Finally, the measures for parental support for sport and exercise are introduced and still improve the fit of the model. Most notably, the parents' belief in sport for good is significantly and strongly associated with MVPA in children (
b
 = 9.96; β = .19;
p
 = .011). Hence, MVPA in children increases particularly when parents believe in sports capacity to improve personality development and social integration. Moreover, the parents also seem to work as role models for their children. MVPA in children increases the more sport activities are pursued by the parents (
b
 = 2.72; β = .12;
p
 = .045). If both parents exercise "more than 4 h per week" the MVPA level of the child is estimated to be 10.9 min higher each day compared to a child whose parents both exercise "less than 30 min per week". Third, parental support for sport activities of the child is also of relevance and significantly predicts MVPA in children (
b
 = 5.63; β = .12;
p
 = .042). A child who receives maximum support for sport and exercise from their parents (i.e. has a value of 5) is expected to spent 22.5 min more with MVPA compared to a child with minimum parental support (value of 1). The effect for the sports equipment available at home (
b
 = 1.09; β = .11;
p
 = .068) points into the expected direction but fails to reach significance.
The final model has a fit (
R
²) of .52 and suggests that individual differences in MVPA in children can be well explained and are largely a function of gender, parents' education and religious affiliation, parents' belief in sport as a means of character building and development, parents instrumental support of their child's sports activities and of their own sports practices.
Discussion
As a matter of course, this research is not free from limitations. First, the study has a cross-sectional design, so that children's MVPA and familial practices were measured at the same time. Hence, no inferences on causality can be drawn from the data. Although there are good reasons to assume that parents influence MVPA in their children through their behaviour, support, and attitudes, it cannot be ruled out that a high level of MVPA in a child can also change parents' stance towards sport and exercise. Second, this study was concerned with socialization processes in the family, and other social contexts of socialization (peers, schools etc.) were largely ignored. Finally, it has to be kept in mind that this study took place in a regional context and thus results may not be generalizable to the population of elementary school children in Germany. Although the sample represents various social and ethnic groups it has to be kept in mind that Göttingen is a University town with a high proportion of academics, so that findings may be biased due to idiosyncrasies of this particular region.
Acknowledgements
This study was part of the cross-disciplinary joint research program "Gender-Knowledge-Power-Body", supported with a research grant from the Ministry of Education and Culture of Lower-Saxony, Germany. The authors thank Solveig Dressler, Jannis Hillebrand, Malte Klüver, Julian Radzinski and Amelie Schneider for support with the data collection.
Author Contributions
M.M.: designed the study, analysed and interpreted the data, wrote the paper. P.A.: executed the study, analysed and interpreted the data, assisted in writing the paper.
Compliance with Ethical Standards
Conflict of Interest
The authors declare that they have no competing interests.
Ethical Approval
All procedures performed in this study were in accordance with 1964 Helsinki declaration and its later amendments.
Informed Consent
Informed consent was obtained from all individual participants included in the study.
This article is distributed under the terms of the Creative Commons Attribution 4.0 International License (
http://​creativecommons.​org/​licenses/​by/​4.​0/​
), which permits unrestricted use, distribution, and reproduction in any medium, provided you give appropriate credit to the original author(s) and the source, provide a link to the Creative Commons license, and indicate if changes were made.