07-10-2016 | Original Paper | Uitgave 2/2017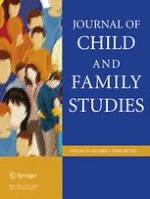 Parenting and Adolescent Adjustment in Mexico: Initial Evidence of Validity for the Mexican Parenting Questionnaire for Adolescents (MPQ-A)
Tijdschrift:
Auteurs:

Linda C. Halgunseth, Graciela Espinosa-Hernández, Hee-Koung Joeng, Yiting Chang, Noel Card, Alexander Reid
Abstract
The present study examined the validity of a self-report parenting instrument for use with Mexican adolescents. The 13-item measure was adapted from the Mexican Parenting Questionnaire. The sample included 1123 adolescents (
M
age = 15.07, SD = 1.52) from Puebla, Mexico. Adolescents self-reported on six subscales of parenting (i.e., affection, verbal guidance, monitoring, communication, physical punishment and verbal punishment), as well as on measures of school grades, life satisfaction, familism, depressive and anxiety symptoms. Using confirmatory factor analyses, the original constructs were found to be a good fit with the data. Most subscales consisted of moderate levels of internal consistency and predicted several measures of adolescent adjustment in expected directions. Girls were more likely to report higher levels of monitoring, affection, and communication than boys. Adolescents who were younger and who reported lower school grades were more likely to report greater levels of physical punishment. Familism was positively associated with five of the six parenting dimensions (i.e., affection, verbal guidance, monitoring, physical punishment, and communication). Findings advance understanding on families and adolescent well-being in Mexico and may inform culturally competent services for clinicians who work with Mexican families.