14-06-2016 | Empirical Research | Uitgave 12/2016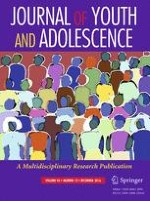 Parent–Youth Differences in Familism Values from Adolescence into Young Adulthood: Developmental Course and Links with Parent–Youth Conflict
Tijdschrift:
Auteurs:

Jenny Padilla, Susan M. McHale, Michael J. Rovine, Kimberly A. Updegraff, Adriana J. Umaña-Taylor
Abstract
A critical step in capturing family processes is to incorporate the perspectives and experiences of multiple family members toward characterizing how families operate as systems. Although some research has examined differences between parents' and youth's family experiences, most studies have focused on European American families, and we know little about the nature and implications of divergent parent–youth experiences in other ethnic groups. Accordingly, we focused on Mexican-origin families and assessed the links between mother–youth and father–youth differences in familism values and parent–youth conflict from early adolescence into young adulthood. Participants were mothers, fathers, and two siblings (248 female and 244 male, 51 % female;
M
age
= 14.02 years) from 246 families who were interviewed in their homes on three occasions over 8 years. We operationalized parent–youth differences in familism values using difference scores, controlling for mean levels of familism. Multilevel models revealed that mothers' and fathers' familism values remained relatively stable over time, but youth's familism values declined until age 17, stabilized, and then increased slightly in young adulthood. Lagged models tested directions of effect by examining whether parent–youth differences in familism values predicted parent–youth conflict or vice versa. The findings revealed that parent–youth conflict predicted greater differences in parent–youth familism values, but differences in familism values did not predict conflict. Our findings align with a family systems perspective in documenting the significance of differences between family members' perspectives and highlighting that such processes are dynamic. Further, by testing bi-directional associations in longitudinal models, we were able to disentangle the temporal ordering of differences in familism values and parent–youth conflict thereby advancing understanding of parent–youth discrepancies in cultural values.