01-04-2011 | OPSLAG-LUTS BIJ MANNEN: FOCUS OP DIAGNOSE EN BEHANDELING | Uitgave 2/2011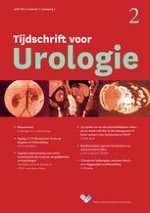 Opslag-LUTS bij mannen: focus op diagnose en behandeling
Tijdschrift:
Auteur:

dr. J.P.F.A. Heesakkers
Samenvatting
De klachten van mannen met lower urinary tract dysfunction (LUTS) zijn net zo vaak gerelateerd aan de opslagfase als aan de mictiefase. Opslag-LUTS bestaat uit klachten van een overactieve blaas (OAB), die al dan niet gepaard gaan met blaasuitgangsobstructie. Vaak blijft de OAB bestaan na een interventie die is gericht op de prostaat. Vanwege de complexe samenhang tussen een OAB en prostaatvergroting is het nodig om de klachten zorgvuldig te analyseren om op grond daarvan een goede behandeling in te stellen. Er bestaat vaak angst voor het optreden van een acute urineretentie bij het voorschrijven van anticholinergica (met of zonder alfablokker), bij mannen met LUTS. Enkele goed uitgevoerde studies laten zien dat acute urineretentie niet vaak voorkomt en dat anticholinergica in de meeste gevallen veilig kunnen worden voorgeschreven, wat leidt tot een beter behandelingsresultaat.
Storage-LUTS; focus on diagnosis and treatment
Male LUTS often is storage LUTS and therefore causes overactive bladder (OAB) complaints. They may occur with or without bladder outlet obstruction, and are often found persistent after interventions targeted to the prostate. Because of the complex interplay between OAB and prostatic enlargement in male LUTS, it is necessary to have a tailored evaluation and treatment regarding this interaction. In spite of concern about possible development of acute urinary retention while using antimuscarinics, the first results of welldesigned studies reveal that these agents (with or without an alpha-blocker) do not adversely affect urinary function and can be safely administered in men with LUTS.