01-04-2011 | BLAASSENSATIE | Uitgave 2/2011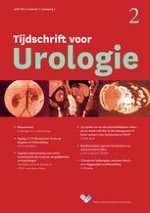 Blaassensatie
Tijdschrift:
Auteurs:

R. Heeringa, dr. G.A. van Koeveringe
Samenvatting
Alvorens de etiologie van pathologische condities, zoals het overactieve blaassyndroom volledig te kunnen ontrafelen, moeten we eerst weten wat normale blaassensaties zijn, hoe deze zich ontwikkelen en hoe deze kunnen worden beschreven. Tot op heden werden blaassensaties met name bestudeerd door middel van urodynamisch onderzoek en sensatiegerelateerde plasdagboeken. Recentelijk werd aangetoond dat sensaties ook kunnen worden bestudeerd door middel van een waterloadprotocol en continue introspectie. Aan de hand van genoemde methodes beschrijven we in dit artikel wat we tot nu toe weten over normale blaassensaties.
Summary
Bladder sensation
Before being able to unravel the aetiology of pathological conditions, such as the overactive bladder syndrome, we first have to know what the normal bladder sensations are, how they are described and how they develop. Until now, bladder sensations were evaluated by means of cystometry or sensation-related bladder diaries only. Recently it was shown that sensations can also be studied using a waterload protocol and continuous introspection. In this article, we will describe our current knowledge on normal bladder sensations, using the methods mentioned above.