2006 | OriginalPaper | Hoofdstuk
5a Addendum: tendinose van heupabductoren als oorzaak van het trochanter major pijnsyndroom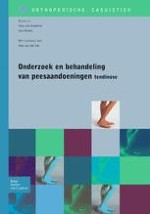 eerste hoofdstuk lezen
Auteur: Koos van Nugteren
Uitgeverij: Bohn Stafleu van Loghum
Samenvatting
Laterale heuppijn die optreedt tijdens lopen, waarbij sprake is van een symptoom van Trendelenburg* of Duchenne** en waarbij drukpijn bestaat op de trochanter major, wordt dikwijls veroorzaakt door tendinose van heupabductoren. Bovendien is vaak sprake van partiële rupturen en bestaat er soms calcificatie in de gedegenereerde pezen. Door onbekendheid met deze aandoening wordt deze vaak onjuist gediagnosticeerd, meestal als bursitis trochanterica. Een dergelijke bursitis – als deze tenminste bestaat – moet worden beschouwd als een reactie op de pathologie van de heupabductoren.
Een goed klinisch onderzoek van de lumbale wervelkolom en het heupgewricht is van groot belang voor het stellen van de juiste diagnose, aangezien laterale heuppijn ook veroorzaakt kan worden door pathologie van de lumbale wervelkolom en het heupgewricht. Een
mri
-opname kan de aandoening wel in beeld brengen, maar men moet hierbij bedenken dat een op
mri
-opnamen zichtbare tendinose ook geheel symptoomloos kan voorkomen.
Conservatief-therapeutische mogelijkheden bestaan uit: medicatie, het gebruik van een stok, één of slechts enkele corticosteroïdeninjecties in het getroffen gebied en eventueel een hakverhoging onder het aangedane been. Mogelijk kunnen excentrisch uitgevoerde spierversterkende oefeningen leiden tot een verbetering van de kwaliteit van de aangedane pezen. Meer onderzoek hiernaar wordt aanbevolen.
Als conservatief beleid faalt en de aandoening invaliderend van karakter blijft, is in bepaalde gevallen operatieve behandeling een optie. Bij een reductie-osteotomie van de trochanter major wordt tenminste de oorzaak van de aandoening voor een deel geëlimineerd: de frictie van de tractus iliotibialis over het prominerende deel van de trochanter major.