03-10-2016 | ORIGINAL PAPER | Uitgave 2/2017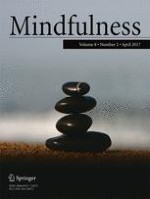 Mindfulness in Motion: a Mindfulness-Based Intervention to Reduce Stress and Enhance Quality of Sleep in Scandinavian Employees
Tijdschrift:
Auteurs:

Maryanna Klatt, Chris Norre, Brenda Reader, Laura Yodice, Susan White
Abstract
Worksite stress reduction interventions are utilized by employers to improve the health and productivity of their workers. Originally designed for the American workplace, Mindfulness in Motion (MIM) is a mindfulness-based intervention (MBI) that incorporates mindfulness, music, and yoga in a time-limited fashion. This study examined the effectiveness of the Danish translation of MIM and investigated the ability of MIM to reduce stress while enhancing quality of sleep and work engagement in bank employees of a non-American culture. In a randomized controlled trial in Copenhagen, Denmark, participants were assigned to the worksite MIM stress reduction program or were wait-listed to the control group. The intervention group (
n
 = 27) received 8 weeks of MIM (60 min/week) via a trained instructor. The controls (
n
 = 30) received no intervention during the study period. Participants were assessed at baseline, immediately following the intervention, and 8 weeks post-intervention via the Perceived Stress Scale (PSS), the Pittsburgh Quality of Sleep Scale (PSQI), and the Utrecht Work Engagement Scale-9 (UWES-9). While there was no significant improvement in overall work engagement, the MIM group achieved significant reductions in stress (
p
 < 0.001), improvements in global sleep (
p
 = 0.005), subjective sleep quality (
p
 = 0.007), and daytime dysfunction (
p
 = 0.004) and trended toward improvement in the subscale of work absorption (
p
 = 0.05). These improvements were maintained at least 8 weeks after the completion of the program. This study demonstrates the feasibility of the cross-cultural translation of MIM as an effective MBI that can be generalizable to populations outside the American worksite.