03-10-2016 | ORIGINAL PAPER | Uitgave 2/2017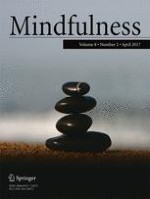 Does Home Practice Compliance Make a Difference in the Effectiveness of Mindfulness Interventions for Adolescents?
Tijdschrift:
Auteurs:

Dianna Quach, Robert C. Gibler, Kristen E. Jastrowski Mano
Abstract
Mindfulness-based interventions encourage home practice to cultivate the development and enhancement of skills. The degree to which adolescents practice mindfulness outside of sessions and whether such home practice relates to measurable outcomes has not been investigated. The present study investigated the effects of home practice compliance on cognitive and psychological outcomes, as well as the relationship between intervention expectations and home practice compliance in adolescents participating in a school-based mindfulness program. As part of a randomized controlled trial, participants completed either a mindfulness meditation (
n
 = 76) or hatha yoga (
n
 = 92) intervention. Pre- and post-intervention measures of working memory capacity, perceived stress, anxiety, and mindfulness were collected. Participants also completed a daily home practice log during the intervention in which they recorded the number of minutes spent practicing mindfulness meditation or hatha yoga. Results indicated that home practice compliance was poor relative to suggested home practice in both intervention groups; however, the hatha yoga group reported significantly more home practice than the mindfulness meditation group (
p
 = 0.003). Hatha yoga participants who engaged in more home practice (upper tertile) showed a statistically significant decrease in perceived stress, while those who reported the lowest amount of home practice (bottom tertile) showed an increase in stress. In the yoga condition, intervention expectations were positively correlated with home practice (
ρ
 = 0.28,
p
 < 0.05). Current findings suggest that home practice compliance is related to stress reduction in hatha yoga interventions for adolescents. Limitations and avenues for future research are discussed.