01-12-2011 | Uitgave 6/2011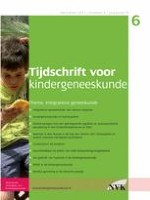 Klantervaringen met een geïntegreerde reguliere en antroposofische benadering in het Kindertherapeuticum in Zeist
Tijdschrift:
Auteurs:

Dhr. Erik Baars, mw. Evi Koster, Dhr. Edmond Schoorel
Belangrijke opmerkingen
arts-epidemioloog, lector
onderzoeker
kinderarts
Summary
Background:
The therapeuticum for children ('Kindertherapeuticum') is a private anthroposophic healthcare institution for diagnostic evaluation and therapy of three streams of children: pediatrics, psychiatry and developmental problems, that was founded in 1996. The approach of the institution is characterized by integration of conventional and anthroposophic methods, multidisciplinary working, and much attention towards the uniqueness of the child by using a qualitative, phenomenological diagnostic method.
Methods:
In 2000, 2005 and 2009 respectively a survey was send to all clients (parents of children, doctors and therapists) with four categories of questions: client characteristics, experiences with diagnostics and treatment, subjectively experienced effects, and quality of the organization.
Results:
Mean response: 54%. Client characteristics: children come from the region (43%), other areas in the Netherlands (55%) and other countries (2%); age categories of children: 0-7 (50%), 8-11 (35%), 12-20 (15%); type of problems: psychiatric, psychosomatic or pedagogic (2/3), somatic (1/3). Most parents choose explicitly for an anthroposophic approach (88%). An increasing number of parents (an estimated 30%) come from a non-anthroposophic doctor. Most parents, doctors and therapists are (very) satisfied with the diagnostics, treatment and organization quality of the institution. Judgment of parents on effects (>2/3), reduction in visitation of health care institutions after the visitation of the therapeuticum and on average 20% reduction suggest positive effects of the approach.
Discussion/conclusion:
Overall, clients of the Kindertherapeuticum are (very) satisfied with the offered diagnostics, therapies and the quality of the organization. There is some evidence for positive effects of the approach.