01-01-2017 | Beschouwing | Uitgave 1/2017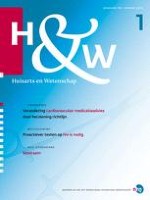 Kindvriendelijke geneesmiddelen
Tijdschrift:
Auteurs:

dr. Diana van Riet-Nales, prof.dr. Fred Schobben, prof.dr. Herman Vromans, prof.dr. Toine Egberts, dr. Carin Rademaker
Belangrijke opmerkingen
College ter Beoordeling van Geneesmiddelen (CBG), Postbus 8275, 3503 RG, Utrecht: dr. D.A van Riet-Nales, apotheker/senior beoordelaar; prof.dr. A.F.A.M. Schobben, oud-ziekenhuisapotheker, oud-collegelid. Universiteit Utrecht, Faculteit bètawetenschappen, Utrecht Institute for Pharmaceutical Sciences, afdeling Farmacoepidemiologie en Klinische Farmacologie: prof.dr. A.C.G. Egberts, hoogleraar klinische farmacie; dr. D.A.van Riet-Nales, apotheker-onderzoeker (tot 2015); prof.dr. A.F.A.M. Schobben, emeritus-hoogleraar klinische farmacotherapie; prof.dr. H. Vromans, hoogleraar farmaceutische technologie. UMC Utrecht, afdeling klinische farmacie: prof.dr. A.C.G. Egberts, hoofd apotheek; dr. C.M.A. Rademaker, ziekenhuisapotheker; prof.dr. H. Vromans, apotheker • Correspondentie: da.v.riet@cbg-meb.nl • Mogelijke belangenverstrengeling: Diana van Riet-Nales is een expert van het Europees Agentschap voor de Geneesmiddelen (EMA).
Dit artikel is gebaseerd op: Van Riet-Nales DA. Child friendly medicines: availability, pharmaceutical design, usability and patient outcomes [proefschrift]. Utrecht: Universiteit Utrecht, 2014. De inhoud van dit artikel reflecteert niet noodzakelijkerwijze de mening van het EMA of het CBG.
Samenvatting
Van Riet-Nales DA, Schobben AFAM, Vromans H, Egberts ACG, Rademaker CMA. Kindvriendelijke geneesmiddelen. Huisarts Wet 2017;60(1):15-9.
Adequate farmacotherapie bij kinderen impliceert het gebruik van het juiste geneesmiddel, in de juiste dosis en in een toedieningsvorm die het kind kan, en ook wil, innemen. Lange tijd was er weinig bekend over de relatie tussen de farmaceutische ontwerpaspecten van een geneesmiddel, zoals de keuze van de toedieningsvorm, de aard van de hulpstoffen of de gebruiksinstructie, en de uitkomsten bij kinderen. Bovendien leidde het gebruik van de bestaande geneesmiddelen tot relatief veel problemen. Daarom is een promotieonderzoek uitgevoerd naar kindvriendelijke geneesmiddelen. In dit artikel lichten we de belangrijkste resultaten voor huisartsen toe. We vonden dat geneesmiddelen niet altijd geregistreerd en/of bruikbaar zijn voor kinderen. En dat er verschillen bestaan tussen de ontwerpaspecten van de diverse merken van hetzelfde geneesmiddel, bijvoorbeeld broomhexinedranken met en zonder alcohol. We hebben aangetoond dat jonge kinderen niet alleen met dranken of poeders kunnen worden behandeld, maar net zo goed, of wellicht beter, met kleine (mini)tabletten. We zagen ook dat ouders geneesmiddelen soms op een andere manier toedienden dan de bedoeling is, bijvoorbeeld door een minitabletje of poeder te mengen met wat eten of drinken op een lepel. We vonden bovendien dat dit vaker gebeurde als het kind het geneesmiddel slecht accepteerde. Verder bleek dat veel tabletsplitters niet geschikt zijn om een tablet in twee gelijke helften te verdelen. Tabletten met een breukstreep kunnen daarom het beste met de hand worden gebroken.