07-11-2018 | Artikel | Uitgave 2-3/2019 Open Access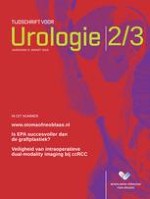 Keuzehulp voor cystectomiepatiënten: stomaofneoblaas.nl
Tijdschrift:
Auteurs:

dr. Julia J. van Tol-Geerdink, dr. D. M. (Rik) Somford, dr. Carl J. Wijburg, dr. A. G. (Toine) van der Heijden, prof. dr. J. A. (Fred) Witjes
Samenvatting
In geval van radicale cystectomie staan veel patiënten voor de keuze tussen een stoma of een neoblaas voor urinederivatie. Als ondersteuning in deze beslissing is een keuzehulp ontwikkeld met de voor- en nadelen van beide opties. De keuzehulp werd ontwikkeld met patiënten en zorgverleners. Evaluatie gebeurde middels vragenlijsten in een bruikbaarheidstudie. Hiertoe werden vragenlijsten ingevuld door 37 patiënten: 25 met en 12 zonder keuzehulp. De keuzehulp werd positief geëvalueerd. Met keuzehulp werden meer kennisvragen correct beantwoord (96 %
vs.
83 %;
p
 = 0,066) en waren meer patiënten actief betrokken in de keuze (100 %
vs.
75 %;
p
 = 0,011). Patiënten ontvingen de keuzehulp op de dag van het diagnosegesprek (38 %), één tot zeven dagen erna (19 %) of later (43 %). Tevredenheid met de timing verschilde tussen die momenten (resp. 88 %, 100 % en 33 % tevreden,
p
=
 0,018). De keuzehulp werd positief beoordeeld en deed alle patiënten actief meebeslissen. De keuzehulp kan direct na de diagnose worden uitgereikt.