22-11-2018 | Artikel | Uitgave 2-3/2019 Open Access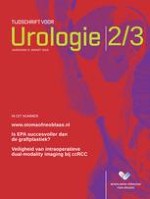 Langetermijnfollow-up en succespercentage van de urethraplastiek
Tijdschrift:
Auteurs:

drs. Pauline C. Wesselman van Helmond, drs. Ronald I. Nooter, drs. Anna V. van Lingen
Samenvatting
De urethraplastiek is de aangewezen behandeling voor langere of recidiverende urethrastricturen. In deze retrospectieve studie werd het succespercentage van 81 urethraplastieken middels excisie en primaire anastomose (EPA) of graftplastiek geanalyseerd, met follow-up van minstens drie maanden. Falen van de plastiek werd gedefinieerd als recidief waarvoor enige vorm van interventie volgde. Met een telefonische enquête en vragenlijst werden de tevredenheid en langetermijncomplicaties geëvalueerd. Het overall succes was 79 %. Voor EPA's en graftplastieken was de ingreep succesvol bij 91,7 % en 72,5 % van de patiënten. Korte bulbaire stricturen kwamen het meest voor. Bij 58,8 % van de recidieven waren voorafgaand meerdere ingrepen verricht voor een urethrastrictuur. Erectiele disfunctie
de novo
kwam voor bij 22,8 %. Postoperatief bemerkte 14 % verkorting van de penis en 6 % kromstand.
De conclusie is dat het succespercentage van EPA's hoger is dan van graftplastieken. Meerdere voorafgaande instrumentaties voor strictuurbehandeling is mogelijk een risicofactor voor recidief. Erectiele disfunctie lijkt een veel voorkomende complicatie.