01-04-2013 | Original Article | Uitgave 2/2013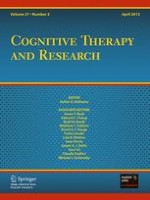 Is There a Core Process Across Depression and Anxiety?
Tijdschrift:
Auteurs:

Timothy Bird, Warren Mansell, Chris Dickens, Sara Tai
Abstract
There is emerging evidence of overlap across cognitive processes. One explanation of this overlap is the presence of a single, higher-order latent process. In this study we tested for a core process and its ability to account for symptoms of depression and anxiety. Using Structural Equation Modeling we compared a model where processes (worry, thought suppression and experiential avoidance) are treated as separate predictors of symptoms (anxiety and depression) against a model where they are represented by one latent factor. These models were applied in three analyses: a cross-sectional student sample; a longitudinal subset of this analogue sample; and a cross-sectional sample of individuals with long-term health conditions. Comparison of the models showed that while the two sets of models provided comparable fits to the data, the single factor models provided a more parsimonious solution. In addition, the latent factor explained a large proportion of variance in all measured processes, suggesting a high degree of overlap between them. It also explained more variance in symptoms than the processes separately. A Confirmatory Factor Analysis further supported a single factor solution, and the item loadings indicated that the core process represented a perceived inability to control negative thinking.