01-10-2009 | Original Paper | Uitgave 5/2009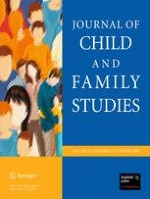 Intergenerational Transmission of Parenting Style and Personality: Direct Influence or Mediation?
Tijdschrift:
Auteurs:

Toshinori Kitamura, Noriko Shikai, Masayo Uji, Hidetoshi Hiramura, Nao Tanaka, Masahiro Shono
Abstract
In order to examine the relationships between parenting styles and personality traits over generations, a cross-sectional questionnaire study was conducted for fathers and mothers of school-age children of grades 5–9. The parenting styles measured by the Parental Bonding Instrument (PBI) and the personality traits measured by the Temperament and Character Inventory (TCI) were correlated within and between the consecutive generations (the grandparents and the parents for the PBI and the parents and the children for the TCI). A series of structural equation modeling showed that (1) while the parenting styles were transmitted directly from the grandparents to the parents, it was partly mediated by the fathers' Co-operativeness (C) but not so for the mothers, (2) while the personality traits were transmitted directly from the parents to the children, it was only the fathers' parenting styles that mediated C, and (3) the parents' parenting styles had independent effects upon the children's personality traits.