01-07-2015 | Original Paper | Uitgave 7/2015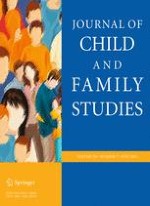 Incredible Years Parent Training: Does it Improve Positive Relationships in Portuguese Families of Preschoolers with Oppositional/Defiant Symptoms?
Tijdschrift:
Auteurs:

Tatiana Carvalho Homem, Maria Filomena Gaspar, Maria João Seabra Santos, Andreia Fernandes Azevedo, Maria Cristina Canavarro
Abstract
Children with behavior externalizing disorders are difficult to cope with and might have a negative impact on parent–child interactions and couples relationships, as well as on parents' psychological adjustment. The present study evaluates the effectiveness of a parent training program [Incredible Years (IY) Basic Program] for improving positive relationships in Portuguese families of preschoolers with symptoms of oppositional/defiant disorder. Eighty-three families randomly assigned to an IY intervention (
n
= 44) or to a waiting list control group (CG;
n
= 39) were evaluated, at baseline and 6 months after the intervention, on the following variables: mothers observed positive parenting practices and coaching skills; mothers' self-reported dysfunctional parenting practices; mothers' depressive symptoms; perceived couples intimacy; and children's behavior. Moreover, families who had received the IY program were also assessed in the same variables 12-months after baseline. Observed and self-reported positive parenting practices, couples openness to exterior and children's oppositional behavior improved significantly more from pre- to post-assessment in the intervention group (IG) than in the CG (medium to large effect sizes). Changes observed in the IG were sustained at the 12-month follow-up. However, the improvements in coaching skills that had been observed at the 6 months follow-up in the IG decreased over time. The findings indicate that the IY Parent Program is a promising intervention to promote more positive parent–child relationships, decrease children's oppositional behaviors and develop couple's willingness to open to the exterior, from the mother's point of view.