26-11-2020 | Original Article | Uitgave 2/2021 Open Access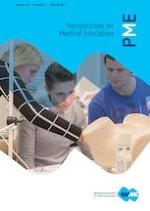 Impact of deliberate practice on evidence-based medicine attitudes and behaviours of health care professionals
Tijdschrift:
Auteurs:

Eelco Draaisma, Lauren A. Maggio, Jolita Bekhof, A. Debbie C. Jaarsma, Paul L. P. Brand
Belangrijke opmerkingen
Disclaimer
The views expressed in this article are those of the authors and do not necessarily reflect the official policy or position of the Uniformed Services University of the Health Sciences, the U.S. Department of Defense, or the U.S. Government.
Abstract
Introduction
Although evidence-based medicine (EBM) teaching activities may improve short-term EBM knowledge and skills, they have little long-term impact on learners' EBM attitudes and behaviour. This study examined the effects of learning EBM through stand-alone workshops or various forms of deliberate EBM practice.
Methods
We assessed EBM attitudes and behaviour with the evidence based practice inventory questionnaire, in paediatric health care professionals who had only participated in a stand-alone EBM workshop (controls), participants with a completed PhD in clinical research (PhDs), those who had completed part of their paediatric residency at a department (Isala Hospital) which systematically implemented EBM in its clinical and teaching activities (former Isala residents), and a reference group of paediatric professionals currently employed at Isala's paediatric department (current Isala participants).
Results
Compared to controls (
n
 = 16), current Isala participants (
n
 = 13) reported more positive EBM attitudes (
p
 < 0.01), gave more priority to using EBM in decision making (
p
 = 0.001) and reported more EBM behaviour (
p
 = 0.007). PhDs (
n
 = 20) gave more priority to using EBM in medical decision making (
p
 < 0.001) and reported more EBM behaviour than controls (
p
 = 0.016).
Discussion
Health care professionals exposed to deliberate practice of EBM, either in the daily routines of their department or by completing a PhD in clinical research, view EBM as more useful and are more likely to use it in decision making than their peers who only followed a standard EBM workshop. These findings support the use of deliberate practice as the basis for postgraduate EBM educational activities.