23-07-2015 | Original Paper | Uitgave 3/2016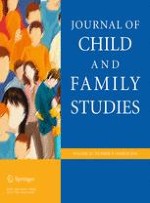 How Couple- and Parenting-Focused Programs Affect Child Behavioral Problems: A Randomized Controlled Trial
Tijdschrift:
Auteurs:

Martina Zemp, Anne Milek, E. Mark Cummings, Annette Cina, Guy Bodenmann
Abstract
The significance of enhancing parenting skills to reduce child maladjustment is well-established and supports the important role of evidence-based parenting programs. However, the notion that parenting should be the exclusive focus for enhancing child behavior is necessarily limiting. Evidence is growing that relationship-oriented treatments may be another powerful approach to improve child adjustment, albeit the underlying effects in couple- versus parenting-focused programs have been subject to limited study. The aim of this RCT was to compare the treatment effects of (1) a couple-focused program (the
Couples Coping Enhancement Training
) to (2) a parenting training (
Triple P
) and (3) a control group on children's behavioral problems in 150 couples. The parents' perceptions of relationship quality, parenting behavior, and child's behavioral problems were assessed by means of questionnaires completed prior to and 2 weeks after the end of the treatment. Multi-group path analyses revealed that in mothers' perception the couple-focused program reduced child behavioral problems by enhancing the relationship quality whereas improved parenting mediated the benefits in the parenting training. In fathers' evaluations the couple-focused program reduced dysfunctional parenting which largely accounted for the benefits in child adjustment. The dearth of research on child outcomes in couple-focused intervention studies is a striking gap that should be overcome. It is a promising field because of its evident potential to foster the health of many children.