01-08-2011 | Uitgave 4/2011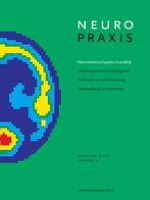 Het motorrepertoire van te vroeg geborenen is geassocieerd met intelligentie op de schoolleeftijd
Tijdschrift:
Auteurs:

Janneke Bruggink, Arend Bos
Kinderen die te vroeg geboren worden, hebben lagere IQ-scores dan hun leeftijdgenoten die à term geboren worden, zelfs zonder dat sprake is van ernstig hersenletsel of ernstige motorische handicaps (Johnson, 2007). Geschat wordt dat cognitieve stoornissen voorkomen bij 25–50% van de te vroeg geborenen met een zeer laag geboortegewicht (<1500 g) (Johnson, 2007; Bhutta, Cleves, Casey, Cradock & Anand, 2002; Aylward, 2005). Cognitieve stoornissen zonder ernstige motorische stoornissen zijn de meest voorkomende neurologische restverschijnselen bij te vroeg geborenen. Deze cognitieve stoornissen worden steeds duidelijker op de schoolleeftijd, als het kind meer complexe cognitieve taken moet uitvoeren. Het intelligentiequotiënt (IQ) is gemiddeld 4–10 punten lager bij kinderen die geboren zijn vóór 32 weken zwangerschapsduur dan bij à terme geboren leeftijdgenoten (Johnson, 2007; Aylward, 2005). Geschat wordt dat bij elke week van de zwangerschap die korter is dan 32 weken, het IQ ongeveer 1,7 punten lager is (Bhutta, Cleves, Casey, Cradock & Anand, 2002). Dit stijgt zelfs tot 2,5 punten voor elke week minder dan 27 weken zwangerschapsduur (Johnson, 2007).
Het blijft lastig om op jonge leeftijd juist dat kind te identificeren, dat een verhoogd risico heeft op het ontwikkelen van deze cognitieve stoornissen. Hoewel MRI-onderzoek bij te vroeg geborenen vaak uitgebreide wittestofafwijkingen en een afname van het volume van de grijze stof laat zien, zijn er geen duidelijke associaties van cognitief functioneren met pathologische afwijkingen bij beeldvormend onderzoek.
De kwalitatieve beoordeling van de General Movements (GM's) bij zuigelingen volgens Prechtl is een betrouwbare, sensitieve en niet-invasieve methode om het functioneren van de hersenen te beoordelen op jonge leeftijd (Prechtl, Einspieler, Cioni, Bos, Ferrari & Sontheimer, 1997). Beoordeling van GM's is gebaseerd op zogenaamde Gestaltperceptie, waarbij rekening gehouden wordt met de complexiteit en de variabiliteit van de beweging. De kwaliteit van GM's op jonge leeftijd is een krachtige voorspeller voor motorisch functioneren op latere leeftijd (Bos, Martijn, Van Asperen, Hadders-Algra, Okken & Prechtl, 1998; Cioni et al., 2000; Ferrari et al., 2002; Einspieler et al., 2002; Bruggink et al., 2008). Echter, de toegevoegde waarde van GM's voor het voorspellen van het cognitief functioneren op latere leeftijd is nog onduidelijk.
Het doel van deze studie was om te onderzoeken of de kwaliteit van het bewegingsrepertoire op jonge leeftijd een voorspellende waarde heeft voor intelligentie en school prestaties op de schoolleeftijd.