01-08-2014 | Original Article | Uitgave 4/2014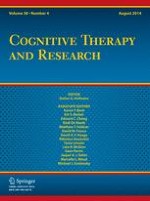 Emotion Regulation of Goals in Bipolar Disorder and Major Depression: A Comparison of Rumination and Mindfulness
Tijdschrift:
Auteurs:

Kirsten Gilbert, June Gruber
Belangrijke opmerkingen
Data from this manuscript was presented at the 2011 meeting of the Society for Research in Psychopathology.
Abstract
Progress towards goals is intertwined with emotional responding, yet little is known about how emotions are regulated during this process. This is especially pertinent in disorders characterized by emotional and goal dysregulation, such as bipolar disorder (BD) and major depressive disorder (MDD). The current study experimentally examined the influence of two emotion regulation strategies—rumination and mindfulness—on emotional responding to goal striving among individuals with BD, MDD, and a healthy control group. Participants visualized a future unattained goal and then engaged in a maladaptive (rumination) or adaptive (mindfulness) induction while experiential and autonomic responses were measured. Across participants, ruminating on a future goal was associated with increased negative and positive emotion and elevated cardiovascular arousal. Compared with ruminating, mindfulness was associated with increased positive emotion and parasympathetic responding. Ruminating on goals appears to exacerbate emotional reactivity while being mindful of one's goals is beneficial in healthy and clinical samples.