01-11-2012 | Uitgave 8/2012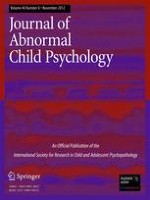 Effects of Parenting and Deviant Peers on Early to Mid-Adolescent Conduct Problems
Tijdschrift:
Auteurs:

Linda Trudeau, W. Alex Mason, G. Kevin Randall, Richard Spoth, Ekaterina Ralston
Belangrijke opmerkingen
The research was supported by the National Institute on Drug Abuse, grant DA 010815, a longitudinal study known as the Capable Families and Youth study. The authors wish to thank the individuals and communities that participated in the study and the many staff members and associates who collected the data and assisted with data management and analyses.
Abstract
We investigated the influence of effective parenting behaviors (father and mother reports) and deviant peer association (adolescent reports) on subsequent young adolescent conduct problems (teacher reports) during grades 7–9, using structural equation modeling. Data were from a sample of 226 rural adolescents (
n
 = 112 boys;
n
 = 107 girls;
n
 = 7 gender unknown), their parents, and teachers. Both effective parenting and association with deviant peers influenced later conduct problems; however, the pattern of influence varied across time and between fathers and mothers, with complex patterns of interactions between effective parenting and peer deviance. From seventh to eighth grade, effective parenting by both mothers and fathers buffered the effect of higher levels of peer deviance on conduct problems across adolescent gender. From eighth to ninth grade (i.e., transition into high school), fathers' effective parenting buffered the effects of deviant peer association on their daughters' conduct problems, whereas both fathers' and mothers' influence was stronger for sons when deviant peer associations were lower. Analyses also evaluated bi-directional longitudinal effects among adolescents, parents, and peers. Although varying by parent and adolescent gender or adolescent age, results generally supported the protective effects of parenting on their children's conduct problems during early to mid adolescence.