01-11-2012 | Uitgave 8/2012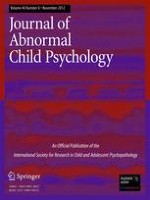 Testing Whether and When Parent Alcoholism Uniquely Affects Various Forms of Adolescent Substance Use
Tijdschrift:
Auteurs:

Andrea M. Hussong, Wenjing Huang, Daniel Serrano, Patrick J. Curran, Laurie Chassin
Belangrijke opmerkingen
Authors Note
The project described was supported by Award Number R01DA015398 from the National Institute on Drug Abuse and R01AA016213 from the National Institute on Alcohol and Alcohol Abuse. The content is solely the responsibility of the authors and does not represent the official views of the National Institute on Drug Abuse or the National Institutes of Health.
Abstract
The current study examined the distal, proximal, and time-varying effects of parents' alcohol-related consequences on adolescents' substance use. Previous studies show that having a parent with a lifetime diagnosis of alcoholism is a clear risk factor for adolescents' own substance use. Less clear is whether the timing of a parent's alcohol-related consequences differentially predicts the adolescent's own substance involvement. Using a multilevel modeling approach, we tested whether adolescents showed elevated rates of alcohol, heavy alcohol, marijuana and other illegal drug use (a) at the same time that parents showed alcohol-related consequences (time-varying effects), (b) if parents showed greater alcohol-related consequences during the child's adolescence (proximal effects), and (c) if parents had a lifetime diagnosis of alcoholism that predated the child's adolescence (distal effects). We tested these effects in a high-risk sample of 451 adolescents assessed over three waves beginning at ages 11–15 from 1988 to 1991 (53 % male, 71 % non-Hispanic Caucasian, 54 % children of alcoholic parents and 46 % matched controls). Strong and consistent distal effects of parent alcoholism on adolescent's substance use were found, though no additional risk was associated with proximal effects. Limited time-varying effects were also found. The importance of differentiating the timing effects of parent alcoholism in identifying underlying mechanisms of risk for adolescent substance use is discussed.