21-03-2015 | Uitgave 2/2016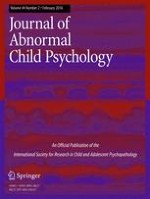 Effects of Adolescent Universal Substance Misuse Preventive Interventions on Young Adult Depression Symptoms: Mediational Modeling
Tijdschrift:
Auteurs:

Linda Trudeau, Richard Spoth, W. Alex Mason, G. Kevin Randall, Cleve Redmond, Lisa Schainker
Abstract
Depression symptoms are associated with impairments in functioning and have substantial health and economic consequences. Universal substance misuse prevention programs have shown effects on non-targeted mental health-related symptoms, but long-term effects are understudied. This cluster randomized controlled trial examined effects of both the
LifeSkills Training
(LST) and
Strengthening Families Program: For Parents and Youth 10–14
(SFP 10–14) interventions, delivered during seventh grade, on age 22 young adult depression symptoms. The study was conducted in US rural Midwestern communities with a randomly-selected sample from a larger study (
N
 = 670). Experimental conditions were LST+SFP 10–14, LST-only, and a control condition. Effects on age 22 depression symptoms were hypothesized as mediated through effects on age 21 relationship problems and illicit use of substances. Structural equation modeling with manifest and latent variables was conducted to test hypotheses; the intervention conditions were combined and compared with the control condition because analyses indicated a comparable pattern of effects between intervention conditions. Significant indirect intervention effects were found on age 22 depression symptoms via effects on the mediating variables (indirect effect:
β
 = −0.06, 95 % CI [−0.10, −0.01],
p
 = 0.011). Effect sizes for the young adult variables were between
d
 = 0.17 and 0.29, which can be considered small, but nontrivial, especially in the context of public health benefits. Results support scaled-up implementation of school-based and family-focused universal substance misuse preventive interventions.