04-05-2017 | Original Paper | Uitgave 9/2017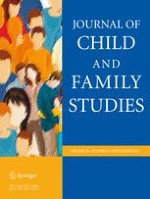 Do Marital Conflict Behaviors in Response to a Novel Stressor Uniquely Predict Adolescent Outcomes?
Tijdschrift:
Auteurs:

Rachel G. Lucas-Thompson, Melissa W. George
Abstract
The goal of this study was to examine whether mothers' and fathers' marital conflict behaviors in response to a novel stressor are uniquely predictive of adolescent outcomes. Previous research establishing the detrimental consequences of marital conflict for child outcomes has relied exclusively on assessments of conflict that measure reoccurring or past conflict. From 153 adolescents and/or both of their parents, reports were gathered on marital conflict, adolescent conflict appraisals, parent-adolescent relationship quality, and adolescent adjustment. Couples engaged in two marital problem-solving interaction tasks—one that elicited conflict behaviors by requiring discussion of salient, reoccurring topics of disagreement and one that prompted conflict behaviors by requiring that couples worked together to solve an unfamiliar problem. Results indicated that compared to behaviors during the marital conflict discussion as well as parent-reports of the frequency, intensity, and resolution of typical conflict, conflict behaviors in response to a novel stressor, particularly those displayed by mothers, were uniquely associated with adolescents' conflict appraisals and dimensions of the parent-adolescent relationship but not adolescent adjustment. Specifically more-negative (relative to positive) conflict behaviors in response to the novel stressor was associated with more-negative adolescent conflict appraisals; mothers' more-negative conflict behaviors in response to a novel stressor were also linked to adolescents reporting less parental monitoring. In contrast, parent reports of typical marital conflict uniquely predicted conflict property appraisals, the affective quality of mother-adolescent relationships, and adolescent adjustment. Implications for future research elucidating associations between conflict behaviors in response to a novel stressor on children and families are discussed.