01-09-2011 | Original Paper | Uitgave 9/2011 Open Access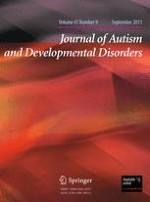 Diagnosing Autism Spectrum Disorders in Adults: the Use of Autism Diagnostic Observation Schedule (ADOS) Module 4
Tijdschrift:
Auteurs:

Jojanneke A. Bastiaansen, Harma Meffert, Simone Hein, Petra Huizinga, Cees Ketelaars, Marieke Pijnenborg, Arnold Bartels, Ruud Minderaa, Christian Keysers, Annelies de Bildt
Abstract
Autism Diagnostic Observation Schedule (ADOS) module 4 was investigated in an independent sample of high-functioning adult males with an autism spectrum disorder (ASD) compared to three specific diagnostic groups: schizophrenia, psychopathy, and typical development. ADOS module 4 proves to be a reliable instrument with good predictive value. It can adequately discriminate ASD from psychopathy and typical development, but is less specific with respect to schizophrenia due to behavioral overlap between autistic and negative symptoms. However, these groups differ on some core items and explorative analyses indicate that a revision of the algorithm in line with Gotham et al. (J Autism Dev Disord 37: 613–627,
2007
) could be beneficial for discriminating ASD from schizophrenia.