24-07-2015 | Original article | Uitgave 10/2015 Open Access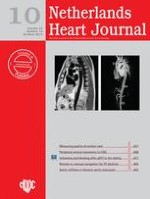 Coupling between MRI-assessed regional aortic pulse wave velocity and diameters in patients with thoracic aortic aneurysm: a feasibility study
Tijdschrift:
Auteurs:

E. S. J. Kröner, J. J. M. Westenberg, L. J. M. Kroft, N. J. Brouwer, P. J. van den Boogaard, A. J. H. A. Scholte
Abstract
Aims
Thoracic aortic aneurysm (TAA) is potentially life-threatening and requires close follow-up to prevent aortic dissection. Aortic stiffness and size are considered to be coupled. Regional aortic stiffness in patients with TAA is unknown. We aimed to evaluate coupling between regional pulse wave velocity (PWV), a marker of vascular stiffness, and aortic diameter in TAA patients.
Methods
In 40 TAA patients (59 ± 13 years, 28 male), regional aortic diameters and regional PWV were assessed by 1.5 T MRI. The incidence of increased diameter and PWV were determined for five aortic segments (S1, ascending aorta; S2, aortic arch; S3, thoracic descending aorta; S4, suprarenal and S5, infrarenal abdominal aorta). In addition, coupling between regional PWV testing and aortic dilatation was evaluated and specificity and sensitivity were assessed.
Results
Aortic diameter was 44 ± 5 mm for the aortic root and 39 ± 5 mm for the ascending aorta. PWV was increased in 36 (19 %) aortic segments. Aortic diameter was increased in 28 (14 %) segments. Specificity of regional PWV testing for the prediction of increased regional diameter was ≥ 84 % in the descending thoracic to abdominal aorta and ≥ 68 % in the ascending aorta and aortic arch.
Conclusion
Normal regional PWV is related to absence of increased diameter, with high specificity in the descending thoracic to abdominal aorta and moderate results in the ascending aorta and aortic arch.