28-07-2015 | Original Article - Design Study Article | Uitgave 10/2015 Open Access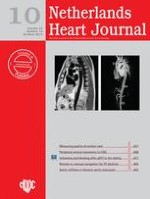 Remote magnetic navigation vs. manual navigation for ablation of ventricular tachycardia: a meta-analysis
Tijdschrift:
Auteurs:

Y. Wu, K.-L. Li, J. Zheng, C.-Y. Zhang, X.-Y. Liu, Z.-M. Cui, Z.-M. Yu, R.-X. Wang, W. Wang
Abstract
Background
The purpose of this study was to prospectively evaluate the efficacy and safety of remote magnetic navigation (RMN) in comparison with manual catheter navigation (MCN) in performing ventricular tachycardia ablation.
Methods
An electronic search was performed using PubMed (1948–2013) and EMBASE (1974–2013) studies comparing RMN with MCN which were published prior to 31 December 2013. Outcomes of interest were as follows: acute success, recurrence rate, complications, total procedure and fluoroscopic times. Standard mean difference (SMD) and its 95 % confidence interval (CI) were used for continuous outcomes; odds ratios (OR) were reported for dichotomous variables.
Results
Four non-randomised studies, including a total of 328 patients, were identified. RMN was deployed in 191 patients. Acute success and long-term freedom from arrhythmias were not significantly different between the RMN and control groups (OR 1.845, 95 % CI 0.731–4.659,
p
 = 0.195 and OR 0.676, 95 % CI 0.383–1.194,
p
 = 0.177, respectively). RMN was associated with less peri-procedural complications (OR 0.279, 95 % CI 0.092–0.843,
p
 = 0.024). Shorter procedural and fluoroscopy times were achieved (95 % CI -0.487 to -0.035,
p
 = 0.024 and 95 % CI -1.467 to -0.984,
p
<0.001, respectively).
Conclusion
The acute and long-term success rates for VT ablation are equal between RMN and MCN, whereas the RMN-guided procedure can be performed with a lower complication rate and less procedural and fluoroscopic times. More prospective randomised trials will be needed to better evaluate the superior role of RMN for catheter ablation of ventricular tachycardia.