Tip
Swipe om te navigeren naar een ander hoofdstuk
2002 | OriginalPaper | Hoofdstuk
11. Casuïstiek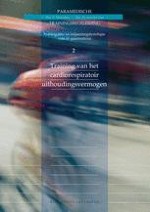 eerste hoofdstuk lezen
Auteur: H. J. Hulzebos
Uitgeverij: Bohn Stafleu van Loghum
Log in om toegang te krijgen
Met onderstaand(e) abonnement(en) heeft u direct toegang:
American College of Sports Medicine (1998). The recommended quantity and quality of exercise for developing and maintaining cardiorespiratory and muscular fitness, and flexibility in healthy adults.
Med Sci Sports Exerc
30(6), 975–991.
CrossRef
Brynteson, P. & Sinning, W.E. (1973). The effects of training frequencies on the retention of cardiovascular fitness.
Med Sci Sports 5
, 29–33.
PubMed
Coyle, E.F. & Martin, D.R. (1984). Time course of loss of adaptations after stopping prolonged intense endurance training.
J Appl Physiol 75
, 1857–1864.
Croce, P. & Gregg, J.R. (1991). Keeping fit when injured.
Clinics in Sports Medicine
10(1), 193)
Fleck, S. & Kraemer, W. (1987).
Designing resistance training programs.
Champaign, Ill.: Human Kinetics.
Fringer, M.N. & Stull, A.G. (1974). Changes in cardiorespiratory parameters during periods of training and detraining in young female adults.
Med Sci Sports 6
, 20
–
25.
PubMed
Hickerson, R.D. & Foster, C. (1985). Reduced training intensities and loss of aerobic power, endurance and cardiac growth.
J Appl Physiol 58
, 492–499.
Hickerson, R.D. & Kanakis, J.R. Reduced training duration effects on aerobic power, endurance and cardiac growth.
J Appl Physiol 53
, 225–229.
Hill, J.O. & Sparling, P.B. (1987). Effects of exercise and food restriction on body composition and metabolic rate in obese women.
Am J Clin Nutr 46
, 622–630.
PubMed
Kendrick, Z.B. & Pollock, M.L. (1971). Effect of training and detraining on cardiovascular efficiency.
Ann Corr Ther J 25
, 79–83.
Kibler, W.B. & Chandler, T.J. (1994). Sport-specific conditioning.
The Am J Sports Med 22
(3), 425.
CrossRef
Knuttgen, H.G. & Nordesio, B. (1973). Physical conditioning through interval training with young male adults.
Med Sci Sports 5
, 220–226.
PubMed
Roskamm, H. (1967). Optimum patterns of exercise for healthy adults.
Can Med Assoc 96
, 895–899.
Titel

Casuïstiek

DOI

https://doi.org/10.1007/978-90-313-9599-6_11

Auteur:

H. J. Hulzebos


Uitgeverij

Bohn Stafleu van Loghum

Volgnummer

11

Hoofdstuknummer

11